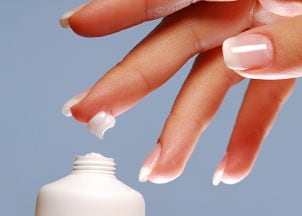 Peeling fingernails and stubborn hangnails aren't just annoying; they can also be painful. These beauty ailments are often hard to get rid of quickly, but with proper nail care, many common fingernail disorders can be treated or cured. Read on for tips on caring for your fingernails and toenails, as well as your hands and feet.
Caring for Your Nails:

Buy a quality manicure set. Even if you get regular manicures at a salon, a manicure set allows you to take care of your fingernails at home and between salon visits. Look for a portable manicure set that includes a nail file, nail clippers and nail scissors to trim painful hangnails and keep your nails trimmed neatly wherever you are.

Look for gentle nail polish remover. Before painting your nails or going to a salon for a manicure or pedicure, be sure to clean all polish off with a nail polish remover. If you paint your nails frequently, gentle nail polish removers can effectively remove your nail polish without damaging the nail. Use nail clippers to trim your nails before removing the polish. Cotton swabs or balls work best to apply the nail polish remover, which often contains acetone and other chemicals, and help you avoid spilling it. Apply a cuticle oil to restore moisture to your nails after removing polish to make sure your nails have time to heal between salon trips.

Purchase flattering nail polish. To avoid discolored fingernails and toenails, buy a base coat to apply to your nails before painting them with a ruby red nail polish. Buff your nails with a nail file and apply cuticle oil before coating them with base polish so that you get an even coat. Dark nail polish can easily yellow fingernails and toenails, so be careful when touching up, especially if you have chipped both coats of polish.

Don't forget to moisturize. Dry, scaly hands and feet will draw attention away from your nails, no matter how great your manicure is. Look for scrubs to exfoliate dead skin and purchase thick creams to massage into your hands and feet. Spa treatments and lotions are also soothing moisturizers.

Buy Nail Care Supplies
Back to Guides Directory