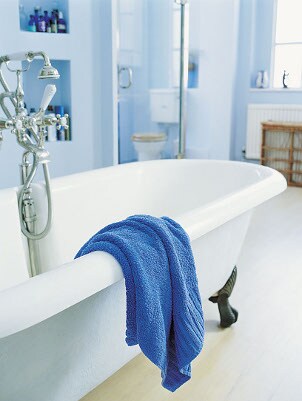 Things You Need:
Claw-foot tub
Faucet fixture
Plumbers putty and tape
Adjustable wrench
You can complete the classic style in your bathroom by installing a claw foot tub. These old-style tubs are perfect for luxuriating baths. Once you have the appropriate plumbing fixtures in place, installing the claw-foot tub itself is easy. Here are some simple steps for you to follow for installing your classic bathtub.
Installing a Claw-foot Tub:

Install the proper plumbing. To install your claw-foot tub, you'll need the water-supply lines and drain pipes rerouted according to the manufacturer's specifications (which is not covered in this guide). The drain pipe will need a P-trap installed, with the pipe extending from the floor. Place your claw-foot tub right above the pipe. The easiest way to run the water lines to the tub is with steel flex-hoses attached to water valves.

Install the drain assembly. Your claw-foot tub has a main drain and an overflow drain, just like a normal tub. Use plumber's putty to seal the drain flange and the drain pipes to their holes on the tub. Then tighten the lock nuts on each connection on the tub as well as the pipe to the floor drain.

Install the faucet assembly. Each claw-foot tub is different. If your faucet assembly didn't come with your claw-foot tub, choose one that is compatible with the faucet holes on your specific tub.

Press the faucet assembly in place over the faucet holes in your claw-foot tub, using plumber's putty around the base of the hot and cold water connections. This creates a watertight seal.

Hand-tighten the lock nuts on the outside of the tub's faucet holes to hold the faucet in place. Clean up any excess putty that squeezes out.

Complete attaching the assembly parts according to your specific tub-faucet instructions.

Attach the water supply lines. You can use either rigid or flexible water-supply lines to bring water to your claw-foot tub, but flex-lines require much less custom pipe work.

Attach the hot and cold water lines to the appropriate gasket on the back of the claw-foot tub, applying plumber's tape to the threads on the male end of the gasket to prevent leaking. Tighten the nuts with a wrench.

Test the water lines. Turn on the hot and cold water lines, checking for leaks at each pipe connection. Run a little bit of water as well, checking the claw-foot tub drain for leaks.

Buy Claw Foot Tubs
Back to Guides Directory