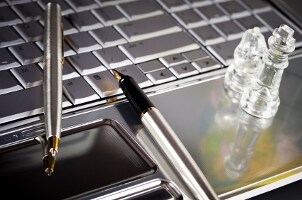 You have a big meeting coming up and you've put together a great presentation on your laptop that's going to impress, but there are still a couple of things you can do to make sure that your computer presentation goes smoothly. Here are a couple of tips for making sure that laptops perform on queue for any big meeting.
Giving Laptop Presentations:

Use a laptop with several video ports. Laptop computers are manufactured with a variety of components, including connection ports. To make your notebook work with a projector in a large conference room, you will need to have a matching port to connect the two. The best way to make sure you're prepared is to buy laptop computers with multiple video ports, like VGA, HDMI and S-video. That way, you'll have several options and be ready for any number of projector types.

Carry more than one cable. Most laptop computers have several connector ports. Be prepared by having multiple cables in your bag for each connection your notebook computer is capable of. Even if the projector cable is missing, you'll still be able to connect your laptop to the projector.

Test your laptop computer speakers. If your presentation requires sound or video, you'll need to have some great speakers to reach the back of the room. Most laptop speakers aren't designed to fill big spaces, so a separate set of large laptop computer speakers may be in order.

Try it out before the presentation. It's always a good idea to do a dry run with your laptop computer and the projector system you'll be using before the meeting. You can work out the bugs of getting your computer to recognize the projector and try out other laptop computers if necessary.

Get a wireless remote. The connections to the audio visual system in your conference room may not be in the spot where you need to be. If you would rather be up front and your laptop computer is at the back, you can still have control over your presentation with a wireless remote. The receiver will plug into a USB port on your laptop computer, and you can control the slides from across the room.

Get an extension cord. The adapter cable for your laptop computer will usually only be about 10 feet long. Even a short extension cord can help you bridge the gap and get power.

Fully charge your laptop battery. Before the presentation, just plug it in for a few minutes to be at full power. That way, your laptop computer can present for an hour or two before you need to recharge the battery.

Buy Laptops
Back to Guides Directory