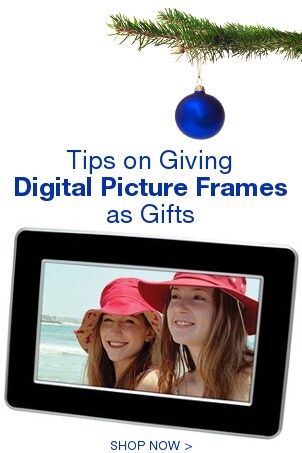 In years past, if you wanted to give a framed photo as a gift, you had to select the best few pictures that fit the frame you chose. Technology now offers a way to give someone all of your favorite pictures using only a single frame. Digital picture frames allow a recipient to enjoy those pictures in a continuous slide show. Here are the best ways to shop for and give them.
Giving a Digital Picture Frame:

Be technologically savvy: Digital frames come in many sizes, with the most common displaying pictures in a 5-by-7 or 4-by-6 format. More important than size of the frame is the frame's resolution because that is what determines how sharp your pictures will appear. Look for a frame with a resolution of at least 800 by 600 for the best display; the higher the resolution, the better the image quality. Aspect ratio, or the width-to-height ratio, is also important. Because most photos are taken in a 4:3 ratio, choose a digital photo frame that displays them the same way to avoid distortion. For example, buying a widescreen frame with an aspect ratio of 16:9 could distort pictures that are shot in 4:3 ratio. It's better to stick with a frame that matches the same ratio as most of your pictures. Just as digital cameras with similar specs can differ widely in terms of quality, so can digital picture frames. Compare models to see which product will display the best image for your pictures.

Consider style: If Grandma loves patchwork quilts and country-style elements, avoid buying a sleek, chrome picture frame for her. Choose a digital frame that coordinates with the decor style and personality of the person who is receiving it. If you are not sure about your recipient's style, select a model that comes with interchangeable face plates to match any room.

Preloaded pictures? Maybe: Unless you know for certain that the recipient wants nothing more than your favorite pictures, avoid loading the digital frame with your selections. If you are gifting a family member you know well, you might be safe loading the frame with pictures of the whole family. Be sure to leave some space for them to add their own images.

Consider power features: Look for a unit with power-saving features, such as a programmable on-off setting. That feature allows users to set a time, such as overnight, for the unit to shut down to conserve energy. Most units use an AC adapter for power, although some also use backup batteries, especially if the frame features additional displays, such as a clock.

Make it easy: While some digital photo frames require you to hook them up to a computer via a USB cable to upload pictures, others give you the option of inserting a camera's memory card directly into the frame. Consider the person you are buying the frame for to determine which upload method would be easiest for him or her, and make your purchase accordingly. Also, consider how many buttons the frame has to make it work. A simpler frame with easy-to-use buttons, or fewer buttons, may be better for someone who is less tech-savvy.

Go small: If you know someone who is always on the go, consider buying a digital photo key chain. These units are usually inexpensive, and it can be fun for the recipient to pass around pictures of the kids at the next PTA meeting. Although the display is obviously small, many units offer surprisingly high-quality images. These also make great stocking stuffers at Christmas.

Shop Digital Picture Frames
Shop All Electronics
Find the Perfect Gift in Our Gift Center
See All Guides
Read More Electronics Guides
Get More about Electronic Gift Ideas