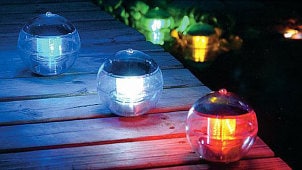 Just like light can be functional and highlight points of interest inside a home, light can also be functional or serve to highlight when placed outside the home. Garden lighting can make an outdoor area safer, and it can become a part of your landscape design. Use garden lighting to create a garden that is both easy to navigate and beautiful.
Garden Lighting Ideas:

Highlighting plants: Landscape design is like garden art. Landscape lighting in a garden can highlight certain features or plants. Look to natural sources for cues. For example, you might try to mimic the shadows the daytime sun creates. Most of the time, you'll enjoy your landscape lighting from indoors, so you want to make sure it is highlighting plants in a way that is pleasing from the indoor point of view as well as an outdoor point of view. Keep in mind that plants change throughout the year, so it is best to highlight those that flourish year-round.

Ways to highlight: When highlighting plants, fountains and other garden pieces, there are a number of techniques to use. You can create a 3D type of effect by lighting the feature from a number of directions. If you light from behind, you'll get a silhouette. Uplighting (lighting an object from below) creates a dramatic effect if used sparingly. Grazing is a technique where you position the light to just barely hit a surface, creating more emphasized shadows. You can also simply create a spotlight technique by shining a light directly on something important.

Lighting water features: Water is hard to see at night, so using garden lights around fountains and ponds is not only safe, but also a quick way to add beauty to your garden. Water reflects light, so experiment with different positions to see how the light will flow to the rest of your garden. Consider submersible lights as well as lights that shine onto the water from above or from the ground.

Motion lights and path lighting: Some outdoor lighting is more functional than decorative. While motion lights may not be the most beautiful type of lighting, every exterior should have at least one motion light; and if your garden is large, you may want several motion lights. Motion lights will catch people or animals that aren't supposed to be in your garden at night, as well as provide you with lighting if you have to walk through a dark garden. In addition, consider lights to add safety to paths and stairs. Solar garden lights are a great way to light paths and stairs since they're easy to install and require no wiring.

Light discomfort: Before you install outdoor lighting, make sure that its position won't cause discomfort to anyone visiting your home or any of your neighbors. Look for garden lights that are engineered to prevent glare, since you don't want someone to be temporarily blinded when they step into your garden or look out the window.

Buy Garden Lighting
Back to Guides Directory