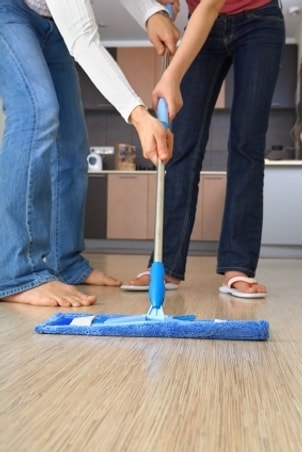 No matter what type of flooring you have in your home, proper floor care and maintenance will protect your wood, laminate or carpet and keep it looking new for years to come. Sweeping, vacuuming and mopping frequently will keep dirt and stains from scratching, scuffing or otherwise damaging your floors. One of the most important factors in floor care is having the proper materials and tools to care for your floors. Whether you're interested in hardwood or laminate floor care in your home, the following information can help answer your floor cleaning questions. Read on for tips on floor care.
Caring for Your Floors:

Wood floors: To keep wood looking beautiful year after year, there are a few preventive tips that can make hardwood floor care much simpler. Clean your wood floors frequently, especially in high-traffic areas, to remove dust and debris and prevent scratching and scuffing. Use a broom, vacuum or dust cloth to remove dust and dirt semi-weekly as part of an effective wood floor care plan. Clean spills immediately to prevent staining the wood or removing the finish. Place rugs throughout the home to avoid wear and tear in entryways, hallways and other frequently visited areas. You'll also want to make sure your wood floor care plan includes a neutral-pH wood cleaner to use when your floors get really dirty.

Laminate floors: Sweep or vacuum laminate floors twice a week and mop with a gentle solution of one cup of vinegar mixed with one gallon of water as part of your laminate floor care plan. Vinegar cleans the floor without leaving a soapy residue behind that may attract additional dirt or grime. Never wax, sand or polish a laminate floor. Place rugs in high-traffic areas to prevent scratches or scuffs.

Carpeted floors: Carpet is one of the most common flooring materials, and it is often the hardest to keep clean. Vacuum daily to suck up dirt and debris before it is ground into the carpet pile to begin your carpet care plan. Use a spot cleaner to remove stains as soon as they occur. Steam cleaners can also be an effective part of carpet care when you need to remove surface stains. To deep clean your carpets, you can use a carpet-cleaning solution or hire a professional carpet cleaner. Allow the carpet to dry completely for approximately 12 hours after floor cleaning before replacing furniture.

Buy Floor Care
Back to Guides Directory