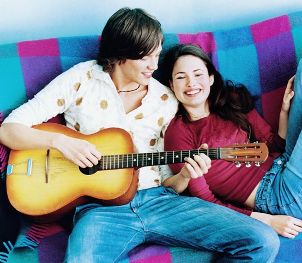 Whether an orchestra, professional singers or karaoke tunes fit your wedding best, it's easy to find wedding music that's perfect for your special day. Include wedding ceremony music in your wedding planning process and don't forget to look for wedding reception music, too. Traditional or contemporary, wedding music ideas are right at your fingertips. Read on for tips on finding the perfect wedding music.
Wedding Music Suggestions:

Decide on a theme. The right wedding ceremony music will depend on your personal tastes and the tone of your wedding. If your big day is formal, traditional wedding music, especially instrumental wedding music, is most appropriate. For a more casual celebration, the wedding reception music might just include a collection of your favorite wedding songs or music that is meaningful to you. You can also decide on a theme, such as a beach wedding with romantic wedding music ideas or a vintage wedding with wedding dance music from the 1940s and '50s.

Choose between live music and stereo music. If you're planning on traditional wedding music, a live orchestra or band is a great choice, although instrumental wedding music will add an elegant touch to any ceremony. Live wedding music doesn't have to be limited to classical wedding music, either. Hire a band to play jazz or pick your favorite wedding songs, including rock and pop styles, for the wedding dance. Stereo music is perfect for both indoor and outdoor weddings, especially if you don't want the hassle of booking live wedding music bands or purchasing equipment. It can also guarantee fewer hang-ups with instruments and performers..

Compile a list of favorites. Once you've decided on ceremony music and the theme, it's time to come up with a list of songs and music styles you like. If you're stumped, think back to special times with your fiance. Was there a great song playing in the restaurant on your first date? Do you share a favorite band? Is there a song that makes you think of him or her each time it comes on? Pick songs that will appeal to both of you and make sure you include a mix of fast and slow songs if you plan to have a wedding dance. Even if your wedding is a formal affair with classical wedding music, choose songs that have meaning and will add to the elegance of your special day.

Buy Wedding Planning Supplies
Back to Guides Directory