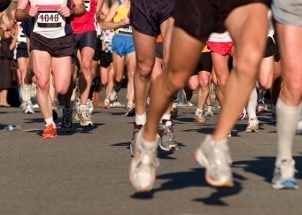 Anyone who enjoys running, swimming and being outdoors will want a reliable sports watch with great features. Thanks to the many advances in timekeeping technology, great features for men's sport watches are in no short supply. When you're shopping for a new multifunction sport watch, match the functions to the requirements of your sport or recreational activity.
Sports Watch Features:

Timed sports: If you are a runner, you probably need a stopwatch with a timer, otherwise known as a chronograph. In fact, this is such a popular and widely used feature that it comes with most sports watches anyway. A chronograph watch is useful for anyone involved in track and field training; swimming or cycling trials; and military fitness tests. Advanced chronograph watches time sprints, record individual and multiple lap times and keep a memory log so you can track your progress. Often, these timepieces have a digital display and keep time in both seconds and milliseconds.

Swimming and diving: Whether you swim, surf or sail, you need a water-resistant watch that can withstand your water-soaked adventures. Even if you forget to take your watch off in the shower, if it's a sports watch, then it shouldn't be a problem; if it is, the timepiece isn't a real sports watch. A water-resistant watch will have rubber, nylon or Teflon gaskets set on the case at the case back, crystal and buttons. A screw-down crown also has these gaskets. In addition, a waterproof sealant lines the case. Most watches are rated to a certain depth of water resistance. Most sports watches will get rated for either pool swimming or at the most skin diving but not scuba diving; you need a diver's watch for scuba diving.

Common water resistance ratings:

3 ATM/30 meters/100 feet: The watch can withstand small splashes of water.

5 ATM/50 meters/165 feet: Wear the watch for short periods of swimming.

10 ATM/100 meters/330 feet: This watch is suitable for swimming and snorkeling.

20 ATM/200 meters/660 feet: Most likely a diver's watch, this timepiece is suitable for high-impact water sports and scuba diving.

Hiking and outdoor sports: When you're hiking the back trails or climbing a mountain of ice, you need a dependable, shock-resistant sport watch with extra features designed just for extreme recreation. You might need a GPS watch. Other important features include altimeters, barometers, compasses, military time display and multiple alarms or even countdown timers for sailors. If you're out at night a lot, make sure to choose a watch with a strong back light.

Buy Men's Sport Watches
Back to Guides Directory