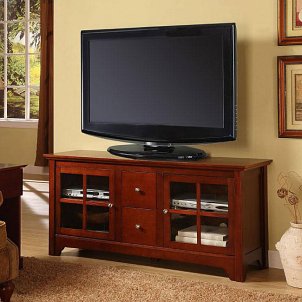 If you're trying to give your entertainment system a boost on a budget, get yourself a cheap TV table without sacrificing style or quality. Sometimes people think getting a cheap TV table will mean it has shoddy workmanship, but that just isn't true. There are plenty of quality TV stands at discount prices out there; you just have to find them. Instead of dropping a load of cash, find a perfect discount TV stand. You'll be happy how your new TV stand looks in your house and you can save some cash to spend on the rest of your entertainment system. Here are a few tips to find a cheap TV table that you'll love to have in your home for a long time.
Finding a Cheap TV Table:

Try Internet shopping. When you shop on the Internet, you can browse a large selection of cheap TV tables in an instant. A variety of television stands are literally at your fingertips online, and you won't have to drag yourself to every furniture store in your area looking for a clearance. Whether you want a corner TV stand, a TV armoire, flat-screen TV stand or any other type of television stand for less, it won't be hard to find it online. If you are looking to pick up a cheap TV table, don't forget to try the Internet.

Don't settle. Just because you are looking for a discount, doesn't mean your cheap TV table shouldn't be high quality. There are plenty of discount TV stands out there to match any style and room decor. If you find a TV console you like, avoid making an impulse purchase. Try to find at least two or three cheap TV tables to compare. You don't need to be hyper-skeptical, just make sure you have a few options so you pick out a television stand you really like.

Save on shipping. Even if you get a great deal on a cheap TV table, make sure the price isn't inflated with high shipping costs. You might think you're getting a great deal on a low-priced TV console and then pay out enough in shipping to eliminate the discount. Make sure your retailer has a good deal on shipping. .

Buy TV Stands
Back to Guides Directory