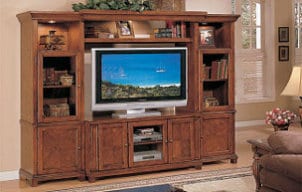 Shopping smart for entertainment electronics, like a cheap LCD TV, is partly about knowing what features to look for and partly about what you want to get out of your entertainment system. LCD TVs are a competitive industry, and you can save big if you know what features you need. Here are some tips on finding a cheap LCD TV for your entertainment system.
Buying a Cheap LCD TV:

Get a specific LCD TV for your system. You can save a lot on a cheap LCD TV if you sacrifice features that have little to do with what you'll be watching. If you're primarily a TV show watcher, you can do without advanced picture quality; many broadcasts aren't yet shown in full high-definition. Also, higher refresh rates aren't really necessary outside of video games and fast-action movie scenes. The main point here is that even cheap LCD TVs without the latest, cutting-edge features will still give you great entertainment.

Forgo the special video processing. There's a lot of debate surrounding the latest video processing that manufacturers are including in HDTVs. They can sharpen images and help reduce motion-blur, but you'll have to be the judge of whether it's worth the price difference between an advanced LCD television and a cheap LCD TV.

Choose 720p rather than 1080p. One feature that can give you a significant price break is LCD TV screen-resolution. The 1080p broadcasts and movies provide a high level of detail, but 720p still gives you a great picture, especially on TVs smaller than 40 inches. A cheap LCD TV with 720p resolution will probably be steeply discounted.

Look for refurbished TVs. A refurbished TV may have been used as a demo model or returned soon after purchase, and then factory-reconditioned before resale. By looking for refurbished models, you can find cheap LCD TVs packed with features that you wouldn't otherwise get for that price.
LCD TV Tip:

You're not always sacrificing quality when you find a cheap LCD TV. Sometimes, it's just about finding a great LCD TV for sale at the right time. Check for specifications, like contrast ratio, refresh rate and connection ports, on cheap LCD TVs and you'll know if you've found a great deal.

Buy LCD TVs
Back to Guides Directory