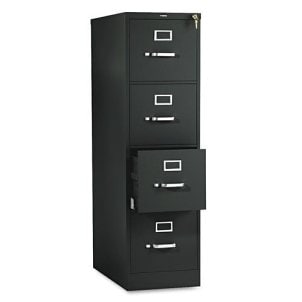 Imagine needing a receipt for a purchase from six months ago and being able to find it in just a few minutes. Or what if you had a designated spot for your bills, tax information and important documents? By making over your filing cabinet, you can create an organized, secure storage area that takes the guesswork out of your paperwork. Look below for some of the bests tips on filing cabinet makeovers.
Make Over Your File Cabinet:

Select the right cabinet: The most important part of getting organized is making sure you have the right filing cabinet for your needs. For most people, a standard two-drawer filing cabinet is sufficient, although you might need more space if you own a home-based business or have an exceptionally large family. If you plan to store sensitive documents, such as identification papers, you need a cabinet with a fire-resistant lock.

Determine your needs: Sit down with a pen and paper to make a list of all the files you think you need. Some categories might be receipts, tax information, identification papers, legal documents, bills and insurance policies. You will inevitably find that you have many more categories than you made in your first list, but this will help you get started.

Design a color system: When papers are stacked together, even if they are organized and separated into separate files, it can take a lot of time to find the document you need. By designing a color-coded system, you can quickly locate the correct file folder with just a quick glance. Use tabbed folders so that you can quickly see what is contained in each folder; label each with a black permanent marker. If you make a reference guide to your color system, it will remind you what is contained in the folders you rarely use and it will also help you categorize future colors.

Organize: Dedicate one hour to going through your file cabinet. Take everything out and go through each item one by one. Make stacks on the floor for items that will go into the same folder, placing them on top of a colored folder to match the category they belong to. Keep a shredder close at hand to securely get rid of any obsolete paperwork.
Organizational supplies: Before you begin organizing, purchase all of the supplies you need. Buy a black marker, hanging file folders, extra label tabs and manila envelopes to hold small items. When you are done organizing, store these items at the back of one of the file cabinet drawers. When you need to create a new file, replace a lost label or replace a worn folder, the necessary items will be right at your fingertips.

Buy Filing Cabinets and Accessories
Back to Guides Directory