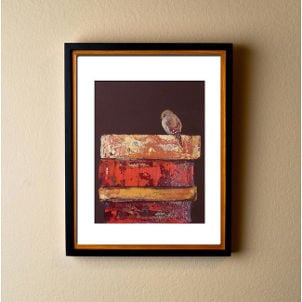 Make a statement in any room when you display contemporary art in your home. This type of art, which includes all pieces produced since World War II, can incorporate both minimalist designs with muted colors and avant-garde patterns that feature bold hues and strokes. Whether you want to create a contemporary art gallery with your favorite paintings or just hang a few contemporary art prints throughout your home, the following suggestions will help you present the pieces you love in a way that complements your personal style. Read on for tips on displaying contemporary art.
Displaying Contemporary Art:

Place one large contemporary art piece on a wall to create interest. If you have an empty wall in your living room you'd like to fill, buy contemporary art that will fit the space. A poster-sized print can dress up a square room, while panoramic contemporary art prints will work better with long walls and oversized furniture. Hanging just one print on the wall allows it to stand out and gives your room a clean, uncluttered look.

Hang contemporary art pieces with matching frames together. To create a unified look, display your contemporary wall art favorites in monochromatic frames. Black frames will give you a modern, neutral look, while brown frames can give you an earthier feel that complements traditional homes. It's not necessary to buy contemporary art with specific frames, however. You can easily spray paint the frame with a new color or simply replace it with an inexpensive frame if it doesn't match. If you'd rather not hassle with identical frames, create a more eclectic look by choosing contemporary wall art with frames in the same color family. Black, grey and white frames will complement each other and look great grouped together on a wall.

Create a gallery by hanging contemporary art pieces side by side. While your contemporary art gallery doesn't have to look like the ones you'd find in a museum, you'll still want it to look professional. Achieve this goal by displaying contemporary canvas art pieces at eye level, lining each piece up so that it is straight. Next, make sure that the distance between each piece is the same and that none of the canvases are higher than the others. Mount your contemporary canvas art securely so that it doesn't tilt or sway; precision is important in achieving the look of a gallery.

Buy Contemporary Art
Back to Guides Directory