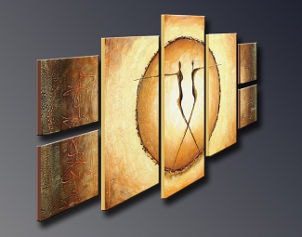 Add bold color and visual appeal to any room of your home with abstract art. This type of artwork, which is characterized by slight or total divergence from realism and accuracy in art, can be stunning by itself or when grouped together in a home abstract art gallery. Whether you prefer abstract canvas art or framed abstract paintings, the following suggestions will help you hang your favorite art pieces in a visually pleasing way. Read on for tips on displaying abstract art.
Displaying Abstract Art:

Pick abstract art pieces with colors that complement your space. If your living room is primarily decorated with neutral colors and earthy tones, abstract modern art pieces that feature bold strokes and vivid hues of red and black will look out of place. While your abstract paintings should stand out, you'll achieve a more polished look if your artwork incorporates the same colors and themes that are prominent in the room. If your room is contemporary or decorated with black and white, however, you will have more freedom in choosing abstract modern art; almost any color will add depth and vibrancy to your space.

Choose one abstract art piece as a focal point when hanging multiple prints. Creating a mini abstract art gallery on an open wall is a great way to dress up a boring room. For the best effect, however, you'll want to choose just one abstract art print to serve as a focal point on the wall. Hang this piece in a place where guests' eyes will be drawn to it, and then hang smaller prints around it. If you'd like your guests to view certain abstract art prints first, try staggering them diagonally or hanging two small pieces next to one large one so that the eye automatically moves in a circle. No matter how high your ceiling is, make sure to hang the main abstract art paintings at eye level. This allows visitors to look directly at the artwork and doesn't make your room seem stunted.

Consider the sizes of your abstract art pieces before hanging them. While 16x20 abstract canvas art pieces may be perfect for a large family room, they can make a small bedroom look even smaller. When you choose abstract wall art for any room, be sure that it is proportional to the size of the room and the furnishings and accent pieces in it. If you prefer smaller pieces, such as 8x10 abstract art paintings, try grouping them together in one large square so that they fill up a blank wall.

Buy Abstract Art
Back to Guides Directory