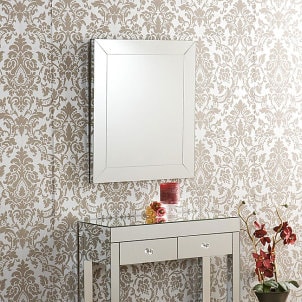 Whether you want to visually enlarge a space or add some glamour, a mirror is the perfect decorative accent for any room in your home. With round mirrors to give a hallway dimension or frameless mirrors to reflect light in your living room, you'll be able to buy mirrors that work with your home's decor and show them off with the following suggestions. Read on for tips on displaying a mirror.
Decorating with Mirrors:

Use an oval mirror to spruce up an empty wall. If you have a bare wall in your home that just doesn't look right with a photograph or art piece, why not hang a classic oval mirror at eye level? You can find an oval mirror finished with black or gunmetal-colored paint for a stark, contemporary look or look for a mirror finished in brass or gold for an old-fashioned feel. Make sure to hang this wall mirror so that it will reflect light and make the room look larger.

Put several floor mirrors together. What woman hasn't wanted a three-way mirror to check her outfit and hair on her way out the door? Instead of buying a fold-out wall mirror to just examine your makeup, place three floor mirrors together in a half-circle to create your own dressing-room effect. For an especially glamorous look, find floor mirrors that have molded edges and a vintage feel. You can also buy mirrors with straight, square edges for a more contemporary vibe and a better fit if you're short on space. Make sure you prop these decorative mirrors at a flattering angle so that your appearance isn't widened or shortened.

Arrange round mirrors in a collage. When you want to create a distinctive look in a living room or a bedroom, use round mirrors to form a design on an open wall or fill a space above a side table. Frameless mirrors hung in a vertical pattern can create a contemporary look, but you can also create a rustic, nautical atmosphere by hanging several round framed mirrors of varying sizes in a circle to look like the portholes of a naval ship. Place these decorative mirrors at the end of a hallway for a fun style.

Prop a make-up mirror on a side table. Your classic round make-up mirror receives new life when you display it with vintage perfume bottles and silver trays on a table in the hallway. Group two or three simple framed mirrors together for a different look; this side table can be the perfect place to check your lipstick when you're hosting a party or running late for work. An old-fashioned make-up mirror with a brass finish can give your entryway unexpected flair, too.

Buy Mirrors
Back to Guides Directory