Your wedding ring serves as a daily reminder that you found your perfect partner. This may be the only ring you ever wear, so the right pick must also suit your style and your routine; that's a tall order for a little ring. To reach the right decision, learn the features that distinguish one man's ring from another's and decide what is most important to you. Whether you prefer a gold ring with heft, a barely-there band for working, or a design to convey your signature style, there's a ring out there with your name on it.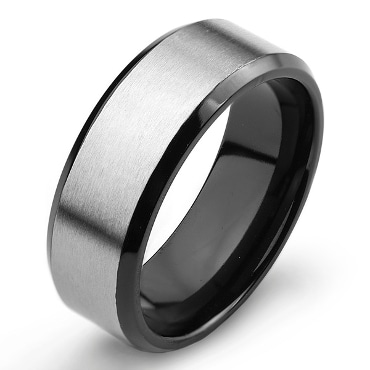 Metals
The metal you choose represents the soul of your wedding band. A simple gold ring is the most time-honored choice, balancing masculinity with the universal symbol of love. If you prefer traditional with a twist, consider silver-toned metal. With its chilly white gleam, platinum is the modern alternative to gold. The precious metal is heavier and rarer, placing it in the upper tier of wedding jewelry.

Titanium and tungsten deliver silvery style at lower cost. Prized in aerospace design, titanium feels feather-light on fingers for futuristic style. Tungsten is among the heaviest and hardest of metals, adding a weightiness to your ring.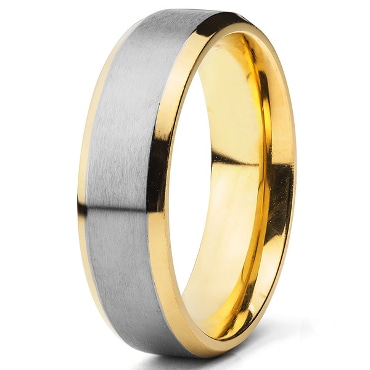 Metal Color
Men's wedding bands once came in just two colors: yellow or silver. Today, grooms can choose from many hues, including rose, black, and cobalt. Yellow rings flatter with warmth, while silver is cool and masculine. You should also keep in mind that silver-toned metals vary in hue -- platinum has white undertones, while titanium and tungsten are naturally grey. Chemical processes can also transform the latter two into a rainbow of hues, including glossy black and blue.

Before deciding on a color, consider your wardrobe. Do you wear a tie to the office, or are you a jeans-and-T-shirt kind of guy? Traditional designs blend with weekend wear and formal attire, but casual or flashy rings tend to stand out with a suit.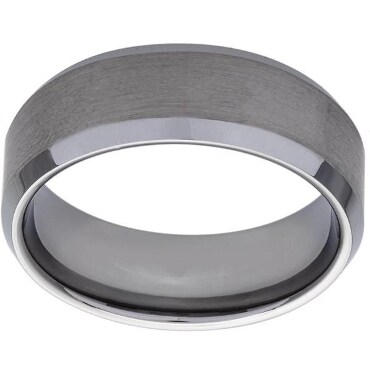 Maintenance
How much abuse your ring can withstand is determined by how hard the metal is. The softer the metal, the more frequently it needs to be polished. A rock-hard tungsten ring can be worn every day for years without so much as a scratch, where platinum will need frequent polishing to keep it shining. Gold falls in the middle, both resilient yet malleable, but keep in mind that the higher the karat, the softer the metal will be. Titanium is tougher than gold but still requires an occasional polish but is not quite as strong as tungsten.

Keep your job and hobbies in mind when choosing your metal type. If you work in a very physical profession or enjoy playing sports, a tougher material like tungsten or titanium may be for you. If you work in an office setting, however, the flash of platinum may catch your eye.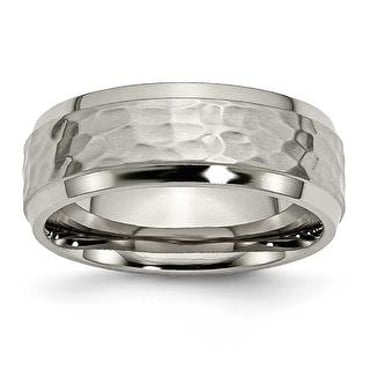 Finish
From the smooth glint of classic gold to a multi-toned hammered silver, finish gives your ring personality. A high polish finish reflects light, adding shine and highlighting a metal's warm or cool undertones. A brushed or matte finish features a roughened texture that diffuses light, giving the ring a no-fuss masculinity that is easy to maintain. A brushed finish may hide your ring's first few scratches better than a polished finish, but jewelers agree that both dull over time.

A satin finish falls in between, offering a soft look that's polished but not shiny, while a hammered finish captures the style of hand-forged metal with its distinctive dimples. You can also choose from a number of intricate patterns and to give your ring a distinct texture and finish.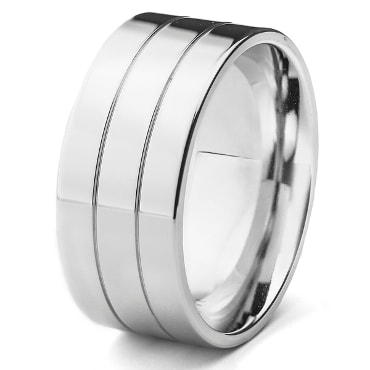 Width
Conventional advice says that men with large hands need a prominent ring, while those with slim fingers should wear a thinner band. However, the modern trend is to pick a thickness that flatters but also feels right. If you've chosen heavy tungsten as your metal, you might prefer a slimmer design to reduce the weight of your ring. Or perhaps you have thin, tapered fingers but love the look of an extra wide ring. The traditional range is about three to six millimeters in width, though wide styles get as thick as eight or nine millimeters. For a classic look, choose from four to five millimeter bands, which are the most popular.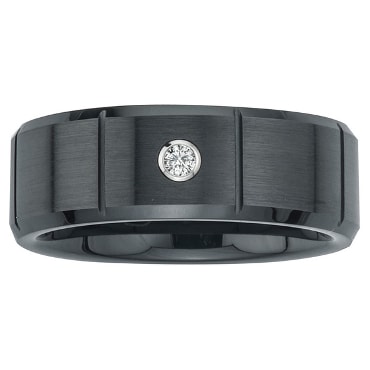 Stones
A small diamond or pave setting transforms a simple ring into a statement piece. Straying from the traditional style, many grooms are customizing unique wedding rings with stones and settings. Choosing the same stone as your fiancee's engagement or wedding ring is a way to subtly unite your rings, particularly if you choose different types or colors of metal. For a more traditional take on this new style, you can opt for a diamond or cubic zirconia and stick with tried-and-true stone cuts, including round and cushion cut.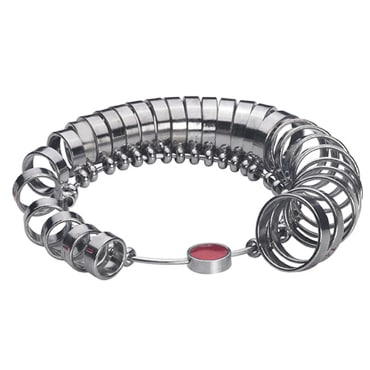 Sizing
Your ring should slide on easily but take a few extra seconds to get off. Don't fool yourself by picking a loose ring because it seems comfortable sliding over your knuckle, but rather aim for a close fit that doesn't pinch. Relax your hand and look for bulges, a tell-tale sign that the ring is too tight. Push against the bottom of the ring, and look for a gap between the top of the ring and your finger. That extra space gives you some breathing room.

Titanium and tungsten bands can't be altered, so be sure that they fit well ahead of time to allow for exchanges. When buying your ring online, be sure you know your ring size ahead of time. There are a number of websites that give free, printable sizing guides so you can ensure your ring is the perfect fit.