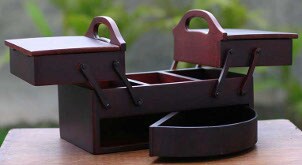 Keeping your jewelry safe and in good condition requires quality jewelry storage. Jewelry boxes feature a variety of designs; some are dainty keepsake boxes and some jewelry armoires are as large as your bedroom furniture. What type of jewelry case or jewelry organizer is right for you? It depends on the size of your jewelry collection and what kind of jewelry storage needs you have. A jewelry armoire is ideal for keeping a group of chains tangle-free, but a small jewelry box or chest can adequately store a large group of rings. As you update and expand your jewelry collection, you'll want to update your jewelry organizer system to match. Jewelry cases feature a variety of styles. Many are beautiful furniture accessories made of oak, rosewood and other fine woods and inlaid with mahogany or mother of pearl. Others have the classic travel-case design, with a carrying handle and leather or fabric exteriors. Use this guide to choose a jewelry box for your collection.
Types of Jewelry Boxes:

Jewelry box: A jewelry box sits on a dresser or table and generally opens with a lid on top. Some jewelry boxes have extra trays, drawers and padded compartments. A jewelry box is a good choice for anyone who needs to store just a few pieces or has an abundance of one type of jewelry. For instance, a box with long, padded slots for bands is perfect for someone with an extensive ring collection. Some jewelry boxes are keepsake boxes. A keepsake box is a decorative container that stores small charms of sentimental value. It resembles a jewelry box but only has one compartment and is quite small. Often presented as a gift, the keepsake box is a highly decorative collectible and is meant to be placed where it can be seen. Large jewelry boxes are often called jewelry chests. A jewelry chest generally has a hinged lid for the top compartment and one or more drawers and trays. The lid usually has a mirror. These big jewelry boxes also make beautiful home decor accent pieces.

Jewelry armoire: Anyone with a large collection of jewelry should consider a jewelry armoire. An armoire for jewelry resembles those used for apparel and come in various sizes; some sit on a dresser and others sit on the floor and can be over 3 feet tall. The jewelry armoire has several storage drawers, cabinets with hooks for hanging chains and bracelets, and it usually has a mirror.

Wall jewelry boxes: Some jewelry boxes hang on a wall like a medicine cabinet. The wall cabinet reduces clutter on a dresser and provides a lot of space for storing jewelry, especially necklaces. Most wall cabinets have a large mirror on the door which allows you to check your appearance at eye level while you try on accessories. The cabinet door has hooks for hanging necklaces and long bracelets, and the shelves offer compartments for other items.

Jewelry roll: This carrying case consists of a long pouch that lies flat on a surface when open. The pouch contains pockets for jewelry, watches or other accessories. Rolling the pouch into a tight cylinder keeps the items in place; a set of ties usually secures it. Jewelry rolls can hold quite a few items and make great travel cases, much easier than carrying a wooden box.

Travel case: A travel case is a small, durable piece of luggage designed to store jewelry, small accessories and cosmetics. Sometimes called a train case, this luggage isn't as common as it once was, but it is still a very convenient jewelry storage and travel option. Some large boxes include a small jewelry case that can be removed and used to hold just a few items.

Buy Jewelry Boxes
Back to Guides Directory