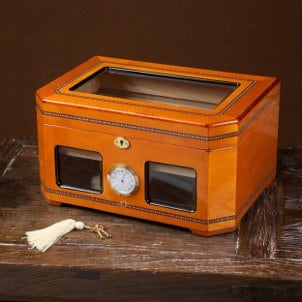 Your cigars are investments and should be cared for like expensive bottles of wine and fine liquors. Humidors are cigar cabinets that have a controlled level of humidity and temperature, which are ideal for storing cigars and other tobacco products. Investing in a humidor for your home is the best way to store fine cigars with confidence. You have many options when shopping for cigar humidors, including models that sit on your desk, humidors that act as furniture and cigar cases that go with you everywhere. Consider these tips on different types of cigar humidors and cigar cabinets before shopping.
Types of Humidors:

Tabletop: Tabletop humidors are the most popular humidors for home use. Tabletop humidors sit on a cabinet, bar or dresser like a watch box or jewelry box and can store hundreds or thousands of cigars. Tabletop humidors are popular because they hold a large collection of cigars, but they don't take up a lot of space. Tabletop humidors are perfect for the new cigar collector or occasional smoker.

Cabinet: Cabinet humidors are larger than tabletop humidors. Cabinet humidors sit on the floor like a small armoire. These humidors can store up to 5,000 cigars, making them a great choice for fairly serious cigar collectors. Choose a cabinet humidor that will match your other furniture, as it will always be on display.

Travel: Travel humidors are great for storing about 50 cigars. These humidors can go with you anywhere or be tucked away in your home. Travel humidors are often lightweight for easy transporting. Look for travel humidors made of leather, which look great but won't weigh you down.

Personal: Personal humidors are small tabletop humidors or large travel humidors. These humidors are often called "desk humidors" because they fit perfectly on your home or office desk. Personal humidors can accommodate around 100 cigars, and many are light enough to travel with.

Room: Serious cigar collectors and smokers should consider investing in a room humidor. A room humidor is built into your home, allowing you to store every cigar you can get your hands on. Room humidors are a major investment, as they require home remodeling, but they can be worth it for cigar enthusiasts.

Buy Humidors
Back to Guides Directory