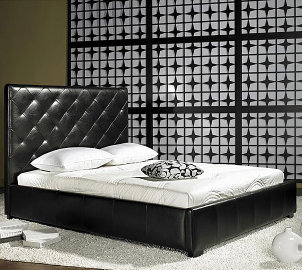 Leather furniture is perfect for updating your living room, bedroom or dining room. A nice leather couch can add traditional charm or modern appeal to a foyer, living room, parlor, family room or sitting room, and leather headboards create a regal atmosphere in any bedroom. When buying furniture, you will need to make a lot of choices about style, size and color. Shopping for leather furniture is even more involved, as many different types of leather are used to create furniture. Use this guide to decide what type of leather is best for your leather furniture.
Furniture Leather Options:

Full-grain leather: Full-grain leather is the upper section of a hide that contains the skin layer. Full-grain leather is made from the best raw hides. This leather has not been corrected and will wear better than other varieties. The finest leather chairs are made from full-grain leather. This leather is often referred to as top-grain leather.

Aniline leather: This leather is a high-quality hide that has been treated with aniline as a dye. Aniline leather is also called naked leather. Aniline leather is delicate, soft and supple. Aniline leather is particularly susceptible to discoloration by sunlight and liquid spills, so it is better for formal sitting rooms and parlors than for kid-friendly family rooms.

Corrected-grain: Any top-grain leather that has been sanded, buffed or corrected to remove any imperfections on the surface is corrected-grain. After correction, an artificial grain is applied. Even though corrected-grain leather is made from top-grain, once it is corrected it is no longer referred to as top-grain. The hides used in corrected-grain leathers aren't as high quality as top-grain leathers. Most corrected-grain leather is used to make pigmented leather.

Split leather: Split leather is made from the hide after the top-grain has been removed. Split leather has an artificial layer applied to the surface and is embossed with a leather grain.

Suede: Suede is made from split leather. The strongest suede is made from grain splits or from a fresh split. Suede is soft and fuzzy on both sides. It is less expensive and less durable than top-grain leather. Suede offers more visual texture than other types of leather, making it a good choice for rooms that seem a little bland.

Buy Furniture
Back to Guides Directory