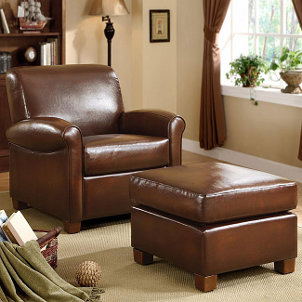 Leather furniture is prized for its many qualities, including but not limited to, durability, attractiveness and luxurious style. When you're ready for your living room furniture to speak volumes, then you're ready to look into leather chairs. For tips on decorating with leather chairs, read on and get ready to make your living room, dining room, drawing room or den the most inviting room in your home.
Decorating with Leather Chairs:

Think outside the box. There have been great advances in leather chair designs; no longer are you limited to an overstuffed armchair surrounded by cigar smoke. Leather chairs are available in bright colors like red and yellow, fun styles like chaise loungers and with special features like swivel bases. Leather chairs are now perfectly acceptable accessories even in the most contemporary rooms.

Pick a color theme. Since leather furniture comes in so many colors, you can choose any color palette you like and find the perfect dining chairs to match. If you have a dark mahogany table, you can complement the look with dark-color leather chairs. If you have an open, airy room, then try leather chairs in a lighter color to keep the mood. Or, if you're feeling daring, use dark leather to contrast with light wood for a truly contemporary look.

Add texture and pattern. Accessorize your leather furniture with pillows and throws. Pick pillows with subtle patterns, like swirls and checks, and pair them with blankets made of cozy fabrics, like angora or chenille. Choose a rug that features colors from the leather chair, the walls and the drapes to tie the whole room together. Finish with a potted plant or fresh flowers for a truly elegant look.

Consider the space. If you're using leather chairs around a dining room table, take a look and decide how much room you have. If you have a long table, you might be able to accommodate chairs with arms. If space is limited, choose armless chairs; they take up less room visually. Or you can compromise and have a mix: leather chairs with arms at the ends of the table and armless leather chairs around the edges.

Buy Leather Chairs
Back to Guides Directory