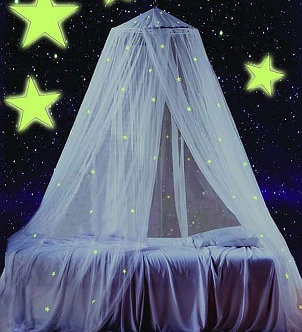 Canopies are a fast, easy way to update any bedroom. In fact, canopies are versatile enough to work everywhere, from children's rooms that need some color to adult bedrooms in need of a bit of luxury. The right canopy can set the mood, protect kids from monsters under the bed, add a splash of color or even shield you from mosquitoes. Don't be intimidated; these tips on decorating with canopies will have you accessorizing in no time.
Decorating with a Canopy:

Decide what kind of canopy bed you want. There are two basic types of canopies: ones that form a cone over the bed (they drape from a single point or hoop centered above the bed) and ones that form a square around the bed (these attach at the four corners of the bed frame).

Choose a color scheme. Are you looking for a romantic feel? Choose a flattering light pink or passionate red. Are you decorating a little girl's room? Pick a canopy color that coordinates with her favorite characters and accessorize with cutouts. Got a little boy who's afraid of the dark? There are canopies with attached glow-in-the-dark stars! You can also choose a neutral color, like beige or white, and accessorize your bedroom in contrasting bright colors or complementary neutrals.

Decide how much coverage you want. The more fabric you choose, the more lavish a look you achieve. Double-layered canopies are luxurious but can be overwhelming for children climbing in and out of bed. Extra-long canopies that pool on the floor create a sumptuous look, but they might be a hazard if you have pets trying to join you in the night.

Consider care instructions. Canopy beds are beautiful, and they require extra care to keep them that way. The nature of the canopy means it will collect dust; to make sure you don't sleep in a cloud of allergens, you'll want to pull down the canopy once a month and wash it. If the canopy is attached to the bed rails, make sure to dust those as well so you don't undo your hard work.

Buy Canopies
Back to Guides Directory