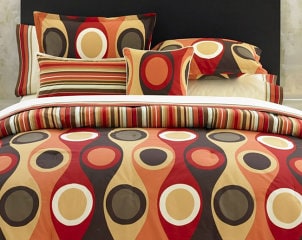 Whether you want a luxury bedroom or something with a Japanese-inspired, unadorned wabi-sabi simplicity, a neutral backdrop or something popping with color and style, your bedding can set the tone in a contemporary bedroom. Many people just throw the sheets and blankets on the bed and call it a day, but to create a stylish and distinctly modern focal point in the room, contemporary bedding is essential. This article will give you some handy tips on contemporary bedding.
Contemporary Bedding Tips:

Bedding segments: Within the bedding basics of fitted sheets, top sheets, blankets, bedspreads, pillows and pillowcases reside a wealth of options. Consider thread count, material, size and color when planning your contemporary bedding. High thread counts of 400 or 500 give bedding a luxurious feeling but only if the thread is single-ply as opposed to thinner, entwined double-ply. Contemporary bedding comes in percale, a closely woven fabric; flannel, a medium-weight fabric with a soft surface; jersey, an elastic fabric that drapes well; and sateen, a smoother fabric with a lustrous finish. Fabrics made of 100 percent cotton or organic cotton are popular in contemporary bedding. Many people prefer to avoid sets of matching bedding and create their own combinations. This choice liberates you, because you can mix and match colors, patterns and materials to suit your specific needs and design preferences. However, most contemporary bedrooms will feature bedding with a streamlined look.

Bedding themes and palettes: Contemporary bedding styles often come in white or off-white for a simple, unadorned look. You can accent white bedding with bold black-and-white graphics on throws, pillow shams or blankets for a minimalist look. Lime green or poppy orange on pillowcases can add a modern, funky touch. Bedding in blue-based grey has cool sophistication, but rose-based grey warms up the look a notch. Faded earth tones that evoke Japanese and Indonesian preferences for natural materials, such as bamboo and rattan, have a modern Asian fusion vibe. Patterns in contemporary bedding can include abstracts, geometric shapes, ethnic motifs, stripes and even bold florals.

Bedding accessories: Frilly, lacy piles of pillows are best suited to traditionally styled bedrooms, but certain other accessories can give your bedding a modernist edge. If you have box springs, cover the bottom mattress with a sheet in a neutral color to create a pedestal for displaying the bedding on top. You can use Euro pillows along the headboard to create the impression of a contemporary upholstered headboard. A throw at the foot of the bed can provide a pop of color or pattern against a solid-colored comforter. Try a splash of Mediterranean blue against white bedding for a crisp, nautical style or sage green against earth tones for Zen tranquility.

Buy Bedding
Back to Guides Directory