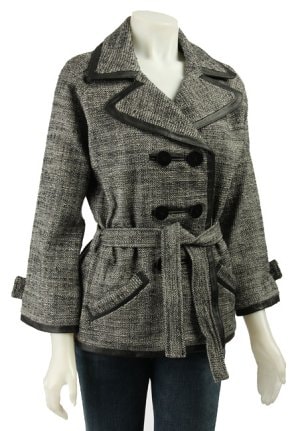 Tweed jackets are a must for any women's wardrobe. Tweed is a durable, heavy-duty choice for jackets and blazers. Made from woven wool, tweed jackets are perfect women's clothing for brisk weather. Before selecting one, take these tips on choosing women's tweed jackets into consideration:
Choosing Tweed Jackets:

Sizing your jacket: The length of the jacket is based on your own personal preference. A good rule of thumb for shorter jackets is to ensure the bottom of the seam hits slightly above the hip. Shorter jackets are best for petite women, while longer jackets are great for taller women. If you don't want to exaggerate your height, a medium-length jacket should suit you perfectly. To measure for a jacket, measure the widest part of your chest while remembering to avoid holding your breath. Be sure not to pull the measuring tape too taut; you want to be comfortable in the jacket. Most manufacturers suggest ordering a size up from your actual measurement. View this women's sizing chart to find more information on measurements and clothing sizes.

Choosing a design, color or style: Colors within tweed jackets vary. Choose a jacket with colors that will make your current wardrobe basics pop. For example, a tweed black and pink jacket would pair perfectly with a blouse in the same shade of pink. Tweed is a textured fabric, so try to pair it with contrasting fabrics such as silk or cotton. A vibrantly colored tweed jacket can play up a basic outfit such as a black dress or beige skirt. There's also the option to choose subtler tweed, such as a beige-and-brown combination, to create a sophisticated look. Styles of tweed jackets can range from the elegant to the bold. Whatever style you choose, be sure to match it with your own personal style and wardrobe. Short or long, most tweed jackets are used during the spring and fall seasons. Because of the texture and the style of the fabric, it is best to mix and match with other styles. You should avoid wearing more than one tweed item at the same time.

Caring for your jacket: Be sure to read the care instructions on the jacket. Because of the texture of tweed, spot cleaning will often get the job done. Using a pumice stone is a popular method for removing small food and fuzz balls. For stains and hard to remove spots, dry cleaning is your best option. Tweed jackets are an easy way to add a layer of warmth, comfort and style to any wardrobe. They can be dressed up for a night out on the town or used to simplify an outfit for work. Tweed jackets are long-lasting, and wearing one demonstrates a knowing sense of fashion. Find one that's right for you and get ready to feel chic time and time again!

Buy Women's Jackets and Blazers
Back to Guides Directory