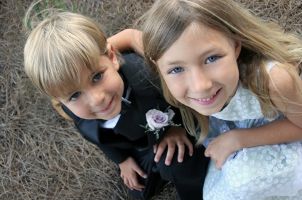 It's time to find something old, something new -- and something for children to wear for the wedding. Choosing wedding clothes for kids goes beyond slipping on their favorite sundress or button-up shirt. Follow common themes for wedding ideas and dressing kids. Explore color, a repeated pattern or use seasonal guidance when choosing children's clothing for the tiniest members of your wedding celebration.
Kids' Wedding Clothes:

Create uniformity with color. Coordinate kids' clothing with wedding theme colors. For example, have flower girls wear white dresses with colorful sashes and bows matching the bridesmaids' dresses. Ring bearers could wear coordinating bow ties and vests. Add small matching ribbons to tiny boutonnieres for the boys.

Play off of patterns. Replicate special patterns seen on the bridal gown. Find a dress for the flower girl that has floral embroidery similar to the stitching on the wedding dress. You can also coordinate the pattern of the ring pillow for the ring bearer. Look for pinstripes or piping that match the groom's attire to dress the ring bearer in a similar suit or dress pants. Look for children's clothing in traditional colors and styles.

Select seasonal fabrics for a special touch. Play off the colors, patterns and flowers of the season. Winter weddings could showcase girls in red and white poinsettia dresses and ring bearers with holly boutonnieres. For little boys, red ties and festive boutonnieres look great. Have the ring bearer carry a silk-covered gift box containing the rings to emphasize the holiday season. Other wedding ideas include putting daisies or sunflowers in a flower girl's hair for a summer wedding or dressing the ring bearer in a russet-colored vest for an autumn wedding.

Coordinate with a classic look. Replicate the look of the bridal party when choosing kids' clothing. Girls can wear white or ivory like the wedding dress or match the color of the bridesmaid gowns. Tea-length silk or linen dresses are perfect for little girls who aren't quite used to long dresses. Young boys could mimic the groomsmen in a classic black tux or suit paired with a white button-up shirt. Make the outfit kid-friendly by omitting the restrictive cummerbund, cuff links and dress shoes. Add new black sneakers to keep kids comfortable.

Search for the right size. Children grow quickly, and wedding clothes for kids should be durable enough to wear for other special occasions. If your child has been asked to play a role in an upcoming wedding, consider their age and size at the time of the ceremony. When in doubt, go a size bigger and hem the dress or pants to fit. Purchase shoes just before the wedding.

Buy Children's Clothing
Back to Guides Directory