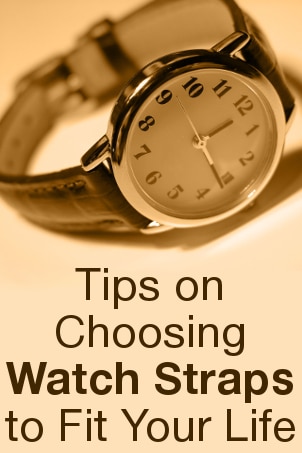 SHOP WATCH BANDS NOW >>
If you wear a watch, chances are there will come a time when you need to replace your watch band. Choosing a replacement watch band gives you the chance to change the look of your wristwatch, but finding one that fits your requirements takes a bit of forethought. Here are the factors you need to consider before you shop for a new watch strap.
Choosing Watch Straps:

Decide what needs replacing: If you are simply trying to change the look of your watch, you will most definitely want a new band. However, if you have a broken watch band, sometimes simply replacing the clasp can be the solution to fixing it. Replacement butterfly clasps or buckles can be bought separately and may solve your problem without buying a whole new band.

Look at the band you're replacing: Often, you will be looking for the same band you previously wore or something similar, but you can also switch it up by getting a watch band in a different color or material. Make sure to measure the length of your old band in millimeters first, though, so you can be sure your new band fits. As you are shopping, you can narrow down your search by the strap widths.

Take note of how your strap attaches: You'll need to shop for a new watch band that attaches in the same way. You may need a special tool to change out the strap, or you may need to take it to a jeweler to have it done for you.

Determine your price point: Depending on how much you want to spend, watch band replacements can be inexpensive or pricey. For a small budget, consider bands made of rubber or nylon. Durable and lightweight, these bands generally cost less and last longer. If you want something that looks more expensive, then look for leather, stainless steel, or gold watch bands.

Examine your lifestyle: If you are planning on taking your watch anywhere near water, consider getting durable bands made of PVC or rubber. If you currently wear a diver's watch, you will want to make sure you choose a waterproof band. For something to complement a dress watch, leather calfskin bands are usually your best option. Buying watch bands made of quality materials can make any watch look like a luxury watch, so you will want to spend a little bit more if that is the style you are going for.

Shop Watch Bands
Shop More Watch Accessories
Shop All Watches
See All Guides
Read More Watches Guides
Learn More about Watch Accessories
Published December 23, 2010
Updated December 3, 2014