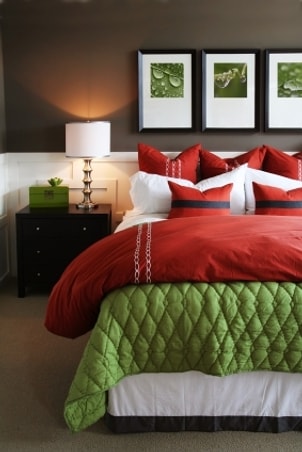 Designing a relaxing room goes beyond selecting comfortable furniture and soft shades of color. If you desire a calm, Zen-like retreat, choose simple wall decor that does not overwhelm your senses. A spa-like room is not the place for lots of little kitschy knickknacks, invigorating colors or busy wall art. Choose simple colors and wall decor elements such as wall sculptures and mirrors for a look that calms and soothes you.
Choosing Relaxing Wall Decor:

Wall art: Choose artwork that speaks to you. Art is intensely personal, so spend some time examining a piece before you buy. Wall art is not limited to paintings and posters. For a very minimal artistic accent, choose a simple wall mirror or a metal wall sculpture. If you choose a canvas work, look for a piece that makes you feel calm. Other options for wall art include tapestries or carvings.

Framed photographs: Black and white photographs matted and framed in a simple monochromatic picture frame are perfect for a space where you can reflect and recharge. Choose uncluttered prints that are free from distracting backgrounds and prominently feature a single focal point. Landscape prints are an ideal choice for a Zen space, and a single large print of loved ones is also the perfect way to bring calm energy to your room.

Colors: Colors that appear in nature are often among the most relaxing shades available. Think about your dream tropical retreat and imagine the soft blues, cool greens and neutral beige tones that color the sky, surf and sand. Emulate these calming shades and themes in your space. Choose hanging rugs, decorative screens or paint in soft colors to serve as the backdrop for your wall decor.

Shelves: Although a simple floating shelf can enhance a calming space by holding a few treasured trinkets, it can easily become a cluttered space crammed with collectibles that adds chaos to your calm room. If you use shelves on your wall, select simple shelves with clean lines and avoid ornate brackets. Color does not matter, but stick with the same finish and style for all of the shelves in a room. Choose one or two special pieces to display on your shelf and stick the rest of the knickknacks in a box elsewhere. Natural elements, such as stones, seashells and driftwood or elemental sculptures complement a calm room.

Buy Wall Decor
Back to Guides Directory