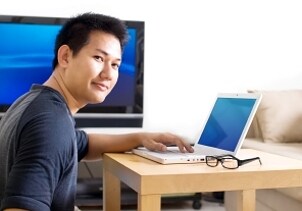 Cinematography can be a fun, creative hobby or a stimulating career. Digital video cameras make it easy to shoot your own video and share it with anyone, but before you post your movies to the Web or burn them to disc for friends, use arts and imaging software to edit and enhance your creations. There is a lot of software for video editing that appeals to users of different skill levels and budgets. Here are a few tips for choosing the video software that will work well for you.
Choosing Video Software:

Choose according to your skill level. You may not need the most advanced video software to get you started. Save money by not paying for a lot of advanced video software features that you may never use. Start with a simple video editor with basic features. As your video editing skills improve, you'll have a better idea of what to look for in a more advanced video software program.

Make sure your computer meets system requirements. Video processing can take a lot of computer power. Older computers may have trouble running new video software. Check the software requirements of the video software before you buy and compare the recommended specifications to your existing system. If your system needs a boost, a video graphics card can help your computer handle advanced image processing and video editing tasks.

Look for built-in DVD and Blu-ray burning. If you plan on making copies of video for friends and family, it can help to have video software that includes DVD and Blu-ray burning software. Your computer will also need a DVD or Blu-ray drive capable of burning discs.

Check what type of file types the software uses. Digital video files come in many different formats. You will probably want video software that can convert digital video from one file type to another. Compare the type of video that your camera shoots with the file types your video software can handle.

Explore transitions and special effects. As you become experienced with video editing, you can start to add special scene transitions and special effects to your videos. Check to see which types of special features your video software is capable of.

Buy Arts and Imaging Software
Back to Guides Directory