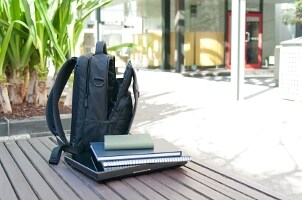 When you need to travel with your laptop computer, AC adapter and other computer accessories, stowing your digital equipment in a traditional backpack may not be the best way to keep your equipment secure. Laptop backpacks are designed to hold your laptop in place inside a special compartment. Laptop backpacks are often constructed with heavy-duty straps and other features to protect the bag's contents from the elements and keep items safe from jostling.
Choosing a Laptop Backpack:

Check the laptop sleeve size. Laptop backpacks that are designed with a separate laptop sleeve or laptop compartment provide an extra layer of protection for your notebook. Make sure that the sleeve or compartment is large enough to accommodate your notebook size, generally from 13 to 17 inches. The standard computer backpack accommodates a 15-inch laptop.

Review the number of compartments and pockets. If you want to keep everything organized when traveling with your laptop computer and accessories, you may benefit from a laptop backpack designed with several compartments and pockets. Some computer backpacks are designed with large pockets in the front and sides of the pack, a cell phone or digital device holder, a pocket for a water bottle and hidden compartments on the top or around the base. Consider how many items you will need to carry at any given time so you can choose a backpack that can accommodate for all of your needs.

Know how you'll carry the backpack. When you're carrying a laptop, computer accessories, paper and personal items over a long distance, you need a laptop backpack with heavy-duty, padded shoulder straps that will reduce tension in your back and shoulders and support your posture. Look for shoulder straps with reinforced padding and extra layers of foam if you want long-lasting comfort when the laptop bag is fully loaded. Some laptop backpacks also come with wheels so you can pull them. Rolling laptop backpacks are great if you're going to be carrying a lot of weight and want to reduce the strain on your back and shoulders.

Buy Laptop Backpacks
Back to Guides Directory