Tips on Choosing the Right Jogging Stroller for Your Family
by Ryn Gargulinski
Published April 29, 2010 | Updated June 30, 2015
You don't have to give up an active lifestyle when you have a baby. If you love to run, you simply need the right jogging stroller. Jogging strollers give children a safe place to ride in a variety of terrain and conditions; they give parents of several young children a way to easily transport them; and they let mom and dad continue their active lifestyle after they've started a family. Use these tips to find the right jogging stroller for you and your children.
Choosing Jogging Strollers: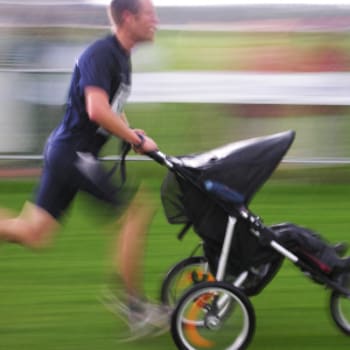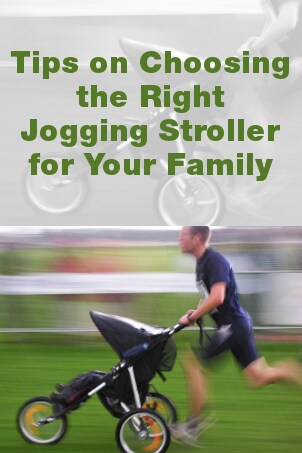 Shop Jogging Strollers ▸
Consider Wheel Type

The wheels are one of the most important features on jogging strollers and are available in a few different types. Typically, you can choose between a swivel wheel and a fixed wheel.

| | Swivel Wheels | Fixed Wheels |
| --- | --- | --- |
| Main Difference | Allow for easy turning without any extra effort | Require you to push down on the stroller before the front wheel will turn |
| Best for | Flat, even surfaces or crowded areas where you need to make tight turns | A variety of rough terrain and a variety of conditions |
| Not recommended for | Sand, snow, and other soft surfaces | Casual joggers |

Think about Wheel Materials

Jogging stroller wheels are also available in a variety of materials, though they are most often made of steel or alloy. Steel is more prone to rust, but it is also less expensive than alloy. If you choose steel, be sure to clean and dry the jogging stroller wheels after use to prevent rusting.

Compare Wheel Sizes

Jogging stroller wheel sizes range from 12 inches to 20 inches.

Which Wheel Size Is Right for You?

Larger wheels can be maneuvered over uneven terrain, curbs, steps, and other rugged areas more easily than smaller wheels. They also glide easier than smaller wheels.

Smaller wheels turn more easily, making them good for indoor use. Smaller wheels will also make the jogging stroller easier to transport when folded and store when not in use.

If you are not sure how you will use your stroller or you intend to use it in a variety of conditions, choose one with medium-sized wheels.

Evaluate Stroller Sizes

Jogging strollers are generally available in single, double, and triple sizes, so even families with three young children can find a stroller to accommodate them. Don't forget to check the weight capacity, as this is an important safety guideline. It's also important to take into account how and where you will use the stroller. If you want a jogging stroller to use primarily indoors, for example, you might be most satisfied with a compact jogging stroller. Finally, consider the height of the people who will be pushing the stroller. If one parent is taller than the other, look for a stroller with an adjustable handle to accommodate both users.

Learn about Safety

Jogging strollers are generally made to be very safe and secure. It's still important, however, to shop carefully in order to ensure that you purchase a safe stroller. Wheels should be wide-set, and the stroller should be made of quality, durable materials. Aluminum, steel, and titanium are popular materials because they are durable and lightweight at the same time. Check the stroller's features as well when considering safety, including harnesses, brakes, and locks.