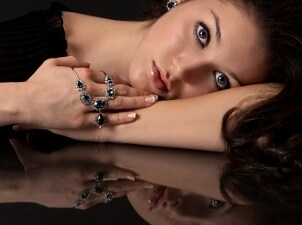 Diamonds are so legendary that they appear in a myriad of famous sayings and in a variety of myths. Diamond jewelry is the preferred gift for romantic occasions and commitments, and buying diamonds for yourself is incredibly luxurious. Whether you are in the market for a diamond jewelry gift or you want to indulge in diamonds for your jewelry collection, diamond stud earrings are the perfect choice. Colored diamond studs, in particular, are very opulent. Colored diamonds, also called fancy diamonds, come in many different natural shades. When you invest in a pair of luxury diamond studs, you'll want to be sure that you'll wear the jewelry frequently. Use our tips to choose the best shade of colored diamond studs for your collection.
Choosing Colored Diamond Studs:

Start with your skin tone: Different shades complement different skin tones, and colored diamonds can be used to highlight your complexion. Cool skin tones look fantastic with diamond studs that feature blue, grey, turquoise, lavender and light pink fancy diamonds. Warm skin tones look great with colored diamond earrings that incorporate red, yellow, bright pink, green and chocolate stones. Black diamond studs work well for all skin tones.

Add your wardrobe: If you aren't sure whether you have a warm skin tone or a cool skin tone, look to your wardrobe. Matching your colored diamond earrings to your current clothing collection is a good way to choose diamond earrings that will look fabulous on you. If you happen to have several yellow sundresses and a collection of red tops, then you probably have a warm skin tone and should consider yellow and chocolate diamond studs. If you have a collection of grey suits and light blue camisoles, then you probably have a cool skin tone and should consider blue and light purple diamond earrings. If your wardrobe is full of black pieces, choose black diamond studs to match your collection or go wild with a brighter hue.

Mix in your lifestyle: Colored diamond studs can be worn casually or formally, making them the perfect choice for any jewelry wardrobe. When choosing the shade, you may want to look to your lifestyle. If you have to wear black suits to work, for example, then it might be fun to have a bright pair of pink diamond earrings in your collection to add color to your ensemble. If you regularly dress up in lacy pink party dresses, on the other hand, a neutral pair of yellow diamond studs might make more sense for your collection.

Default to your birthstone: When you are torn between several colors of diamond studs, you can turn to your birthstone to help you make the decision. If you have a November birthday, a pair of yellow diamond studs will stand in for citrine. If your birthday is in May, opt for green diamond studs instead of emerald jewelry. Beyond your birthstone, simply choose your favorite color. When you love something, it will always look great on you.

Buy Diamond Stud Earrings
Back to Guides Directory