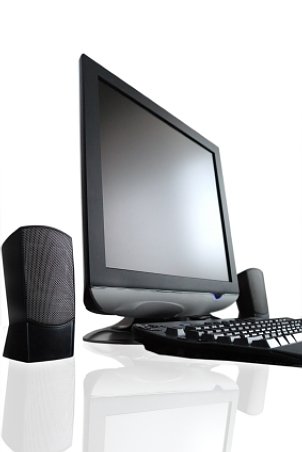 Music and video have migrated from your CD player to your computer. Computer memory storage has increased dramatically in the last several years, making the amount of music and video you can store almost limitless. You will have no trouble converting all your CDs to digital form and playing them on your computer -- without the hassle of switching CDs. Having all that music in one place is great, but the sound quality from those small speakers may be less than you hoped for. Here are a few tips on choosing new computer speakers for your desktop or laptop computer.
Choosing Computer Speakers:

Upgrade to a sound card. Unless you've already installed an expanded sound card on your computer, your computer's processor is doing most of the work producing audio output to your computer speakers. By installing a sound card, you take that burden off of your computer so it can focus on reading the video from a movie you're watching or a game you're playing. A sound card helps eliminate skipping in your audio output and improves the sound range your speakers can produce. Without a sound card, much of your speakers' capability can go to waste.

You may want to look at portable speakers. If you are taking your laptop on the go but don't want to rely on the integrated computer speaker system, consider picking up some portable computer speakers. Even some of the smaller computer speakers can produce a high-quality, high-volume sound.

Match your computer speaker power to your system output. High-watt computer speakers will go to waste if you don't have an amplifier to supply the power. If you're looking to really boost your computer audio, look for an amplifier that has a wattage capacity higher than your computer speakers. Running an amplifier near or at capacity can degrade it over time.

Consider surround sound. If your computer is your multimedia control center, you can maximize your audio experience by getting a surround-sound speaker system for your computer. If you've never experienced surround sound before, wait until you're watching a good action movie or playing your favorite game. You'll discover sounds you didn't know were there.

Feel the sound with a subwoofer. Subwoofers produce the lower end sounds that regular computer speakers produce weakly. Those explosions will shake you in your seat if you have a subwoofer installed.

Go wireless. Having more computer speakers doesn't necessarily mean more wires and cables running around your computer desk or entertainment center. Check out some computer speakers with wireless technology. Usually, wireless computer speakers work through a USB transmitter that connects to your computer and transmits audio data to speakers anywhere in the room.

Buy Computer Speakers
Back to Guides Directory