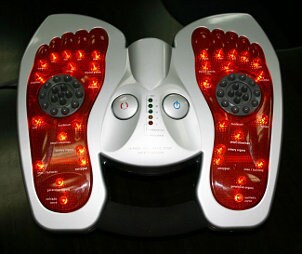 Bring the experience of a healing massage into your home with personal electric massagers. Whether your feet need a little extra care after a long day of running errands or your shoulders are in desperate need of a rubdown after sitting though endless meetings, an electric massager helps alleviate the aches and pains of daily living. There are several options available when choosing personal massagers, including size, strength and function. This guide will help break it down and provide a few helpful tips on choosing massagers.
Choosing a Personal Massager:

Size: The first thing to consider when you're looking at electric massagers is where you want to store it. Slim handheld massagers can be tucked away into any drawer, while larger full-body massaging devices need a little bit of extra room. Some electric massagers, like reclining massage chairs, can even replace your standard reclining chair in the living room. Consider how much space you're willing to use for your new massager and go from there. Keep in mind that just because a personal massager is small doesn't mean it can't pack a lot of healing power.

Strength: For everyday knots and muscle aches, a simple tool like a mini massage wand will do the trick perfectly; however, if your aches and pains are more serious, it's imperative to get an electric massager that can handle the job. Look for massagers with infrared heat settings to provide maximum muscle pain relief. You may also want to choose an electric massager with different settings if you experience a wide range of pain.

Function: When choosing a new massager, you may want to think about the body parts that you'll be using it on. For aching feet and calves, pick up a hydrotherapy foot spa. When filled with warm water, these massaging tubs offer a double dose of healing power. If you suffer from neck tension, go for a wraparound neck massager that targets headache-inducing neck strain. If you want a complete massage experience, pick a massaging wand or massage chair that can be used to treat pain anywhere and bring you the relaxation you crave.

Buy Electric Massagers
Back to Guides Directory