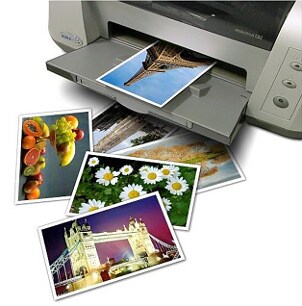 When you start looking at inkjet printers for your home or office, it's important to consider how heavy your use will be, as well as what type of documents you plan on printing. A printer should provide you with reliable, quality prints and possibly a few extra features to make manipulating and printing documents easier. Here are a few tips for choosing an inkjet printer that you'll find useful and effective.
Inkjet Printer Tips:

Speed matters. Speed may or may not be important in an inkjet printer, depending on whether or not you work in a high-speed environment. It's nice to have a printer that can produce prints quickly; but unless you're producing large numbers of documents and photos, you may not need lightning-fast printing.

Calculate the cost per page. You'll end up paying a lot more for the cartridges your inkjet printer uses than you will for the printer itself. Factor ink costs into your decision when looking at inkjet printers. If the printer you choose requires specialty inks and paper, you may end up paying more to print.

Included software is a bonus. Many inkjet printers will include a creative suite of software for editing photos and other images. This is basically free software that can help you better use your inkjet printer to make dynamic and compelling images, especially with a color printer.

Think of the printer's footprint. An inkjet printer that takes up too much desk space without providing a lot of function is probably not ideal. If you're doing high-volume printing projects, you may need a larger printer. But if you're doing basic home printing, a compact inkjet printer should be fine.

Multifunction printers. An inkjet printer that is also a scanner, fax machine and phone will combine several office machines into one. This can solve space issues in a cramped office space and offer you more ways to manipulate and share documents without needing to move them between machines.

Consider print quality. Print quality will vary among inkjet printers. Depending on your end product, you may or may not need high-quality prints from an inkjet color printer. If you're producing high-resolution photos, you may want an inkjet printer with a high dots-per-inch (dpi) rating. A high-quality inkjet photo printer can produce stunning prints, but it may sacrifice speed as a result.

Buy Inkjet Printers
Back to Guides Directory