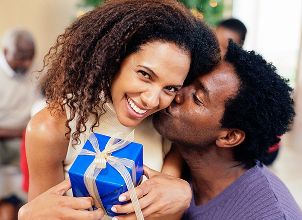 Dressing up for holiday parties can be one of the fun parts of the season. Why not make a bang this year with classic holiday clothing and accessories? The following tips will help you find the most flattering holiday clothing to make your family parties and seasonal events go even more smoothly.
Holiday Clothing Tips:

Choose festive prints and color schemes for fun. The trick to looking polished for a holiday party is to wear dressy pieces, such as metallic knits and cashmere sweaters, which are not necessarily related to a specific holiday. However, a casual holiday party or dress-up-for-work day can call for a Santa-stuck-in-a-chimney tie or holiday sweaters with snowmen, reindeer or blinking lights on them.

Make sure your clothes fit. If you're attending a Thanksgiving get-together or New Year's bash where you might overindulge, comfortable holiday clothing is a must. Oversized clothing can sometimes make you look larger than you are, but holiday sweaters in dark colors are both slimming and comfortable. Pair them either with flattering skirts or dress pants. Dark wash jeans can also be appropriate, depending on how formal the party is.

Look for sparkly details. The holidays are a time when you can pull off dressier looks, such as sequined cardigans, metallic knits and cashmere sweaters. You can also look for holiday cardigans with rhinestone buttons or satin button-ups to pair with dress pants or skirts.

Go for the gold. Holiday occasions are perfect for wearing clothing, footwear and accessories in metallic shades. Gold heels add class to a black sequined cardigan or party dress. Silver necklaces and earrings also brighten up darker colors and add a festive touch.

Throw on accessories. Even if your outfit is neutral, a black party dress looks stunning with a brightly-colored pashmina or shawl, and sparkly jewelry always adds a bit of glamour. Gold heels can accent red scarves, hats and gloves. Just be careful not to overwhelm your outfit with too many accessories, especially if they are bold. One statement piece is really all you need.

Buy Clothing and Shoes
Back to Guides Directory