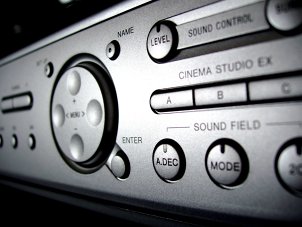 Choosing a receiver for your home theater system can seem like a daunting task with all the options available today. Not only are there seemingly limitless options, but price ranges vary widely and features are so numerous that it can seem difficult to know where to begin. Hopefully, a few tips will make finding a home theater receiver easier.
Choosing a Receiver:

Take stock of what home theater components you already have and want to use with your new receiver. This might include your television, DVD player, Blu-ray player or video game systems. It may even include your home computer or portable music players. This will give you an idea of what types of connectors (and home many of them) you need your receiver to have.

Decide on your price range. It's up to you to decide how flexible you want to be with this, but if nothing else, it can serve as a starting point for what receivers you'll look at. You may find that you need a more expensive home theater receiver to handle all of the features you're looking for; when that happens, you can decide if you're willing to compromise on certain features or accept a more expensive receiver. Of course, you might also discover that you can get away with a less expensive home theater receiver than you had originally expected!

Look for a receiver with the inputs you need. If you have, for example, a Blu-ray player and a video game system that you want to plug into your receiver as well as a high-definition television to connect, then you'll want to look for a receiver with at least two sets of inputs and one set of outputs. Of course, you'll also need to consider the cable types; ideally, you'll want to use the best connection type that both the device and the receiver support. In the case of high-definition televisions, you'll want to use HDMI: HDMI cables carry both the audio and the video over a single cable, making them incredibly convenient. Blu-ray players will likely have HDMI connectors as well, as do some video game consoles. Standard-definition televisions and DVD players are unlikely to have HDMI connectors, so you'll want to use the highest-quality video connection available:

Preferred types of video connection, from highest quality to lowest

HDMI cable (which carries both audio and video)

Component cable

S-video cable

RCA cable (sometimes called "composite")

Coaxial cable (which also carries both audio and video)

If you want to use surround sound, you'll need to make sure that either your home theater receiver can act as a surround sound decoder or that you have an external surround sound decoder. Having a home theater receiver act as the surround sound decoder is generally the simplest and most convenient option, not to mention the option that requires the fewest extra cables. HDMI cables can carry the encoded surround sound signal from a Blu-ray player to the receiver, meaning you won't need any extra cables to carry the audio. If your Blu-ray player doesn't support HDMI or if you're using a DVD player, you'll need to use either a digital coaxial cable or an optical cable to carry the encoded surround sound signal to the receiver. (There are other possibilities, such as when a Blu-ray player acts as the decoder and then requires several coaxial connections to the receiver; to use a setup like that, you'll want to check user manuals to see how the manufacturer suggests you connect the device to your receiver.)

Make sure you have speakers that will work with your receiver. Speakers and a receiver must be able to function at the same level of power output; for example, if your receiver says that it can output 100 watts RMS at 8 ohms or 200 watts RMS at 4 ohms, you'll need to make sure that your speakers can handle one of those ratings. Speakers typically have a range of wattages that they support. Avoid using receivers that will either consistently underpower or overpower your speakers as this will likely damage your speakers.

Buy Receivers
Back to Guides Directory