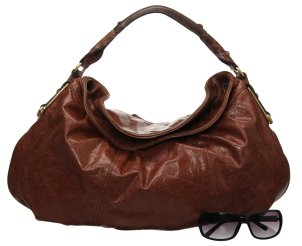 You probably have more stuffed into your handbag than you care to admit: lip glosses, cell phone, wallet, address book, gum. Why not find a handbag that can organize all your essentials and still be stylish enough to carry around? A hobo bag, characterized by its crescent shape and slouchy style, is roomy enough for all the things you need to carry and streamlined enough to remain slim against your body. Here are some tips that will help you find the perfect hobo bag.
What You Need to Know:

Look for a bag that can organize your accessories. Most hobo handbags have zipping pockets and slit pockets, and many now have cell phone pockets that will keep your phone secure. If you will be carrying a lot of different items, make sure your bag has multiple compartments so that you won't lose anything.

Choose a durable fabric that will withstand your activities. Leather hobo bags are probably the most durable handbags, but suede hobo bags will also withstand normal wear and tear. Bags made of these materials are probably best for an everyday handbag. A canvas hobo bag or other bag made of fabric will be best for light use, because the fabric can become dirty easily.

Make sure the bag works with your body type. If you are petite, an oversized leather hobo bag may overwhelm your frame. Look for a bag that hits at about your waist, which will elongate your body. Tall women can pull off large suede hobo bags and should avoid tiny handbags that are swallowed up by the shoulders.

Take your routine into account. If you have to walk long distances to work or are using your handbag for travel, make sure that it is comfortable enough to sling over your shoulder. If you have back problems, select a bag that is strong and will distribute weight evenly. Make sure that the straps will not cut into your shoulder blades or chafe your skin.

Find a style that shows your personality. Whether you like casual looks, such as canvas hobo bags, or classic bags made of vinyl or patent leather, choose a hobo handbag that will fit with your wardrobe and show your style. After all, it will go almost anywhere you go.

View All Hobo Bags
Back to Guides Directory