Tips on Choosing a Dry Erase Board
by Raechel Conover
The best type of dry erase board, or whiteboard, will vary depending on your intended uses for it and its location. Many features for dry erase boards are available, so it's best to define your needs before you make a selection. For example, if you need a dry erase board to use on the refrigerator at home, you may not choose the same board as a teacher who needs a dry erase board for his or her classroom. Here are some tips on choosing the right whiteboard.
What You Need to Know: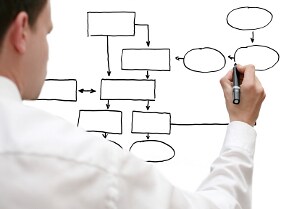 Shop Dry Erase Boards ▸
Define the purpose for your dry erase board.

For example, if you need a dry erase board for a classroom, choose a heavy-duty dry whiteboard that can be hung from a wall. The best dry erase board for your home may be one that can be stuck to the refrigerator with magnets. A whiteboard for an office could be wall-mounted, or it could be portable and require a stand to be used for presentations.

Determine the surface type desired for a dry erase board.

Whiteboards are constructed of painted steel or aluminum, laminate, glass, porcelain and melamine (a type of resin-covered paper). Melamine and painted-steel dry erase boards are susceptible to scratching but easily cleaned of ink markings. Laminate, porcelain and glass dry erase surfaces are scratch-resistant and stain-resistant. The different types of dry erase surfaces vary in price, and some whiteboards even come with a lifetime warranty. Melamine dry erase boards are the least expensive and the most common.

Look over dry erase board accessories.

You may find items you will want to use with your dry erase board that will change your choice of surface and even what you will use the board for. Of course, you will need to purchase dry erase markers and erasers. You may need to purchase dry erase cleaning solution to periodically reduce staining on your whiteboard. Some whiteboards are magnetic, allowing you to use magnetic strips and icons to organize and illustrate information.

Consider the space needed for your dry erase board.

Measure the space where you want to hang the whiteboard and calculate the size that you need. Dry erase boards come in all different sizes, so you will have no trouble finding a whiteboard to fit your space. Likewise, if you plan to move your whiteboard around for presentations, research portable stands. Think of the types of areas you may need to move the dry erase board to.