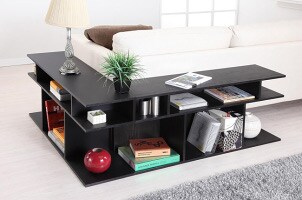 Introducing fashionable coffee, sofa and end tables to your living room opens up many new decorating possibilities. Not only are console tables good for fashion, but they are ideal storage solutions as well. Different types of living room tables, like coffee tables, sofa tables, end tables and console tables often prove themselves useful at parties by offering extra space for snacks or board games. Of course, not all console tables are equal. There are certain criteria you'll need to consider before purchasing your new console table. When you follow these tips on choosing a console table you'll find the right table for your living room.
Choosing a Console Table:

Know what you want to store in or on your console table. Give your console table purpose. An empty table set against the wall out of place even if its style matches the living room. Display items that match the rest of your living room's decor in order to help your console table match the rest of your living room. Be careful to avoid clutter; a few photo frames or one vase can go a long way. Alternatively, you may want to put one or two lamps on the console table to provide extra lighting in the living room.

Know your home's style before purchasing your console table. Make sure your new console table matches the rest of your furniture. A thick and sturdy console table will look sadly out of place in a modern styled living room. Instead, try a contemporary glass or metal console table. Its sleek and minimalistic style will suit your modern living room much better.

Match your living room to your console table. It's important that you match your console table to the rest of your living room furniture. Your console table can either make a brilliant fashion statement or stand out like a sore thumb. A light colored console will look out of place when paired with dark wood furniture. However, there is another option. You don't have to just choose natural wood. Some console tables come in bright colors. For a splash of color, pick a console table that is a complementary color to your living room.
Additional Tips From Overstock:

Placement is important. Adjusting to a new piece of furniture takes some time. If at all possible, set up your new console table away from high-traffic areas for a few days until you get used to having a new piece of furniture. This will help you avoid stubbed toes and bruised shins.

Buy Coffee, Sofa and End Tables
Back to Guides Directory