by C.D. Crowder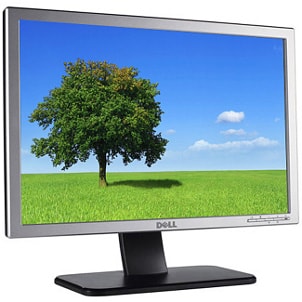 Finding the perfect computer monitor is essential for optimal computer usage. When you're comfortable with your screen, you'll be happier and more comfortable using your computer. Several factors should be taken into consideration when shopping for a computer monitor. Whether you are looking at an LCD monitor or a flat-screen TV to use with your computer, these tips will help you make an informed decision. You should always pay attention to all details about any computer monitor before you make a purchase.
Choosing a Computer Monitor:

Monitors feature differing technologies. The two main types of computer monitors are CRT (cathode ray tube) and LCD (liquid crystal display) monitors.

CRT monitors are large, heavy and all but obsolete. They can be hard to find, and some manufacturers have ceased making them altogether. They can have a curved or flat screen. CRT monitors, especially those with curved screens, often have glare problems depending on the lighting. LCD monitors are quickly replacing CRTs.

LCD monitors are commonly known as "flat-screen" monitors. An LCD monitor is considerably lighter than a CRT and normally less than two inches thick. LCD monitors also use less electricity and have a longer lifespan than CRT monitors. Many LCD TVs can be connected to computers and used as computer monitors. An LCD monitor is a good upgrade from a CRT and is more compatible with emerging technologies.

Screen resolution can affect your display. "Screen resolution" refers to the number of pixels a screen can display. The higher your computer monitor's resolution, the more detailed images it can display. Games and videos often have recommended resolution requirements for optimal performance. If you're purchasing a computer monitor mainly for gaming or video viewing, check the screen resolution before selecting a monitor. Screen resolution will vary with the size and shape of your computer monitor. Look at the total pixels as a guide for computer monitor quality.

Find a computer monitor that fits your budget. If you're purchasing a computer which comes with a computer monitor, look for package deals. An LCD monitor may be included at a discounted price. The larger the screen size, the higher the price. As LCD technology improves and the number of manufacturers increases, LCD monitors continue to drop in price.

Plan for high-definition upgrades. Some computer monitors now support HD through an HDMI connection. If you plan on viewing any high-definition or Blue-Ray videos on your computer monitor, an HDMI connection is recommended. HDMI cables transmit both high-definition sound and video. Most current audio and video cables are not capable of HD transmission and either do only video or only audio. If you don't have a Blu-ray player yet, you may still want an HDMI capable computer monitor so that you will have the capability when you upgrade.

Buy LCD Monitors
Back to Guides Directory