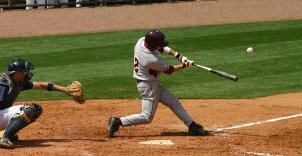 When choosing a baseball glove, there are many factors to consider. Size, comfort and the position you are playing are important factors when making your choice, as is the material it is made from. Baseball gloves provide protection from speeding baseballs, and some gloves have more padding than others, depending on the position played. Whether you are choosing a baseball glove for your little league baseball player or yourself, you will need one that fits comfortably and is designed for the position that is being played. If the glove does not fit right, it can affect the performance of your game.
Choose a Baseball Glove:

Position: There are several varieties of baseball gloves available today. The five main categories of gloves are first baseman's mitt, catcher's mitt, infielder's glove, pitcher's glove and outfielder's glove. Mitts are a bit different from gloves because they lack individual fingers in the pocket of the glove. Catcher's mitts have a claw-like shape to give the pitcher a good target. Both the catcher's and the first basemen's mitts have extra padding to protect them from the fast balls. The infielder's glove is short, making it easier to get the ball out quickly, and has an open, webbed pocket, so the glove does not fill with dirt. The outfielder's gloves are longer than others to assist the player in catching highflying balls or to quickly scoop up ground balls.

Size: One size fits all was once the case for baseball players. This is a concept that has long since changed. Today, baseball gloves come in many sizes. While youth baseball gloves range from size 9 to size 11 1/2, adult sizes range from 11 to 12 1/2. Youth gloves are smaller in size to assist the young baseball player with control. Usually youth-sized gloves are sized by age. If you are replacing a glove that is worn out, you can measure your old glove from the tip of the index finger down through the palm to the corner heel. This will give you the size you need to replace your glove.

Material: Better baseball mitts and gloves are made from leather. There are three grades of leather to choose from when selecting a glove, including top-grain leather, premium steer hide and full-grain leather. Most gloves are made from top-grain leather. The other types are somewhat stiffer and require a lengthy break-in period. Inexpensive gloves are often made of plastic or vinyl. These gloves may work for beginning players, but they generally do not hold up well and are less comfortable.

Buy Baseball Gloves
Back to Guides Directory