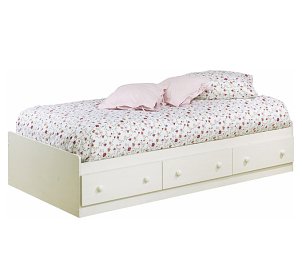 Kids can be noisy, rambunctious, wily and inventive. As such, they are notoriously hard on kids' furniture and can make a brand-new bedroom suite look haggard in a matter of months. Instead of resigning yourself to ramshackle furnishings, you can keep your kids' furniture looking top-notch with a few easy steps. Look below to learn tips on caring for kids' furniture.
Caring for Kids' Furniture:

Selection: The easiest way to ensure your kids' furniture is easy to care for is to pick out durable furniture. Avoid poorly made items that wobble and tip. Select items that are sturdy, with strong bolts and connections. Try to find items with irremovable drawers, as it's almost guaranteed that at some point your child will try to remove them. Choose furniture pieces that are constructed with long-lasting materials, keeping in mind that you can find such pieces without spending a mint. Dressers and desks with laminate finishes, drawers with reinforced medium-density fiberboard bottoms and beds with metal accents are excellent choices that can take a lot of abuse without showing it. Soft woods such as pine can be easily gouged and scratched, so avoid them unless they have an artificially antiqued finish that will help hide any blemishes.

Regular cleaning: Dust furniture once a week with a dust-resistant cleaning product. Let your children help you with these tasks, and show them how to take care of their furnishings. Even toddlers can use a feather duster to help sweep the surfaces of items that are low to the ground. You can also use a damp cloth to wipe down furniture pieces and keep them looking new. Teach your kids to use coasters for their drinks to prevent water spots and show them how to properly fill their drawers so that the weight does not cause the bottoms to sag.

Accidents: If your child colors on the furniture, you may be able to save the piece with the help of regular household items. Let mayonnaise sit on crayon marks for a few minutes before cleaning to help remove them from wood surfaces. Nail-polish remover might take paint off of laminate, wood or metal furniture, while some old home remedies swear by the effectiveness of WD-40 to remove stains from furniture and upholstery. Always test any cleaning agent on an inconspicuous area before applying it to a stain and keep such chemicals out of the hands of children.

Buy Kids' Furniture
Back to Guides Directory