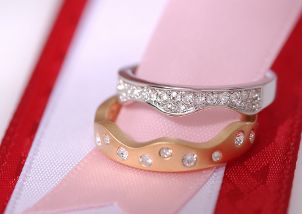 The wedding band is a significant piece of jewelry, symbolizing commitment, love and passion. You can choose from many different kinds of women's wedding bands and engagement rings, including conservative bands, creative designer bridal sets and wedding bands covered in precious stones. It is important to weigh the options carefully when shopping for women's wedding bands to find the wedding jewelry that will be perfect for you or your bride.
Buying Women's Wedding Bands:

Consider sets: If you want a wedding band that coordinates well with your engagement ring, then you might consider purchasing a bridal set. Bridal sets offer a variety of style options and bring continuity to wedding jewelry. Bridal sets are available with plain wedding rings, diamond wedding bands and wedding rings with intricate metalwork.

Browse: Give yourself the chance to consider a variety of wedding jewelry options. Some women will know right away that they want a traditional diamond band or a unique ruby-studded ring, while others will need to browse and take a little time to find the right one. If you are selecting a wedding ring for your bride without her help, consider many styles and varieties in the preliminary shopping step.

Put style first: If you are shopping for your own wedding band, choose something that will go with your everyday style. If you are choosing a wedding band for your future wife, pay attention to her current jewelry and fashion choices. Elegant diamond wedding bands will appeal to the feminine, elegant woman, while simple bands will be perfect for the casual woman and unique wedding bands will be suit the eclectic woman.

Contemplate lifestyle: It is important to consider lifestyle when shopping for a wedding band. The wedding ring you choose should be comfortable to wear on a typical day. If you are in a profession where wearing jewelry is discouraged or impractical, consider simple wedding bands.

Consider gemstones: Gemstones can add beautiful detail to a wedding band. Diamond bands can complement a stunning diamond engagement ring. Diamonds aren't the only option when choosing wedding band gemstones. Rubies, garnets and moonstones, for example, symbolize passion and love, while blue sapphires symbolize loyalty. Many women like to add color to their wedding band with a bright pink sapphire or deep green emerald.

Buy Women's Wedding Bands
Back to Guides Directory