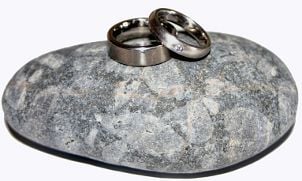 When you're ready to make the biggest romantic commitment of your life, titanium wedding bands are a durable option. As strong as your love, titanium rings will last a lifetime and give you day after day of easy, stylish wearing. Men's titanium wedding bands have been popular for some time, but fashionable women are looking into this option, too. Women's wedding rings tend to be slimmer than men's wedding bands to accommodate hand and finger size. You have a variety of style opportunities when you're looking for women's titanium wedding rings. Ask yourself these questions to help choose the perfect wedding band for your big day.
Women's Titanium Wedding Band Buying Tips:

Will you wear the wedding band with an engagement ring? Women's wedding bands need to be slim enough to fit next to an engagement ring. Consider the style of your engagement ring and the pieces in your current jewelry wardrobe when selecting a wedding band. If you opt to skip an engagement ring, consider purchasing a wider titanium wedding ring for a flashier style. Women's titanium wedding rings may be plain, or they may have grooves and details that enhance the style and match your other wedding jewelry.

Would you like a classic color or something non-traditional? Titanium is naturally a sleek, light silver tone. Plain titanium wedding rings are available, but some have cool colorful details. Yellow gold details are luxurious and add style to a plain wedding band. Some women's wedding rings made of titanium have blue, black, or pink accents. Choose the colorful titanium wedding ring that will make you smile every time you see it.

Would you like some sparkling gemstones? A diamond wedding band is very elegant. Sparkling wedding bands that match your engagement ring will help you create a perfect wedding jewelry piece. If you've had your heart set on a titanium wedding band, you don't have to sacrifice diamonds or gemstones. Many women's titanium wedding bands have diamond embellishments. Diamond-and-titanium women's wedding rings are available in many different styles.

Do you want to coordinate wedding bands with your spouse? If your future spouse is also choosing to wear a titanium wedding band, you have the opportunity to show your commitment to each other by wearing matching rings. Look for unisex styles or clean, classic designs that work with both of your wardrobes.

Buy Titanium Rings
Back to Guides Directory