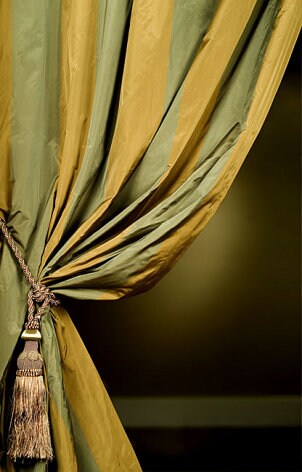 Installing new window treatments is an easy way to change the look of a room; however, shopping for window treatments can be difficult if you're not sure what to look for. There are several things to think about when selecting the right window treatments or curtains for a room. Using the following tips should help you choose the right blinds, curtains or drapes for a room.
Buying Window Treatments Online:

Be prepared. Measure your windows before you go online shopping. Knowing just what size of window treatments you want, whether curtains or blinds, will help you narrow down your options quickly.

Read all the details. Carefully read the specs of any set of curtains or blinds that you're looking at, including measurements, quantity (does it comes as a single panel or a pair?), color, materials, customization options and any additional information.

Ask questions. Contact the customer service department before purchasing window treatments online. If something isn't clear about the window treatments you're looking at or if you have any questions, it's always better to ask rather than order a set of curtains or shutters that don't work for your room and that you'll have to send back.

Read the return policy. Return policies on drapes and other window treatments vary between different online retailers, and a retailer may or may not accept returns for orders unless the item is defective, damaged or the order is incorrect. You can save yourself some grief by finding out your retailer's return policy before you place an order on a new set of window shades or curtains.

Be aware of color discrepancies. The colors of window treatments you find online may not be exactly the same in person as they are on your monitor. Colors vary from monitor to monitor. Reading customer reviews of a particular window treatment often mention any major discrepancies between how a color appears on a screen and how it looks in person.

Consider weight and style. Different window treatments may work better in different rooms. Draperies are usually heavier than curtains, making them a focal point of the room. Shutters will let in more light than shades and blinds. Consider what overall effect you would like to help you choose the right window treatments. Along with weight and effect, certain styles of window treatments might be better in different areas of your home. Always aim for window treatments that match or complement the decor of each room.

Consider the space where the treatment will go. Think about the room you need window treatments for while you're browsing online. Regular curtains, window shades or blinds may do well in the bedroom while drapes generally work well in the living room. Remember that bigger isn't always better. Don't get something that overpowers the window. For example, a simple set of curtains with a valance would be better for a small kitchen window than bulky curtains.

Buy Window Treatments
Back to Guides Directory