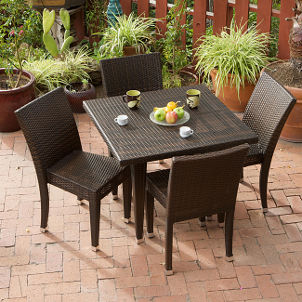 Entertain guests in style when you buy wicker patio furniture for your backyard. Wicker, a name which refers to the tight weave of the furniture, can be made of many different fibers and is known for its durability, even when used in outdoor furniture. Whether you want wicker patio furniture to give your deck or patio a fresh new look or wicker garden furniture to place in your landscaped backyard, the following suggestions will help you find wicker furniture that complements your home and makes entertaining even easier. Read on for tips on buying wicker outdoor furniture.
Buying Wicker Outdoor Furniture:

Look for wicker furniture in practical colors. While white wicker garden furniture is iconic and can give your home a quaint, old-fashioned touch, you may want to buy wicker furniture in darker colors if you live in an area that receives a lot of rain. Look for reddish-brown wicker furniture sets to give your backyard an earthy, laid-back feeling or buy pieces in olive green or black for a more contemporary look. It's easy to update these wicker outdoor furniture sets with thick cushions in contrasting colors, too. Try placing white or cream-colored outdoor cushions on black wicker patio furniture for a fresh, clean vibe.

Buy wicker furniture finished with resin or vinyl for durability. If you live in a rainy or snowy climate, you'll want to look at vinyl or resin wicker furniture, which has been treated to be water-resistant. Resin wicker furniture will also resist fading and cracking in extreme heat or cold. You can also buy wicker furniture sets that feature aluminum frames if you're worried about natural wicker pieces being damaged or growing brittle over time.

Find wicker furniture that complements the theme of your home and your backyard. Wicker outdoor furniture can seem cozy and simple when armchairs and loveseats are grouped together, but you can also make your favorite pieces look sophisticated with the right colors and styles. Buy wicker outdoor furniture sets with boxy, angular shapes if you prefer modern decor, and choose chairs, side tables and even rocking chairs with smooth, rounded edges when you want an antique feeling.

Buy Wicker Patio Furniture
Back to Guides Directory