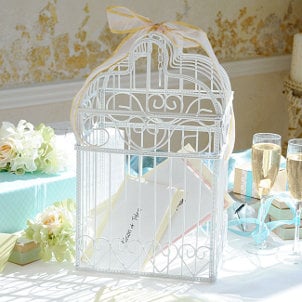 You want your wedding to be beautiful, so choosing the wedding decorations may become a large part of the wedding planning. Couples with a do-it-yourself attitude often apply their creativity and artistic flair to the wedding decor, especially if they are on a budget. Do-it-yourself wedding decorations can be homemade or repurposed items or prefabricated finished pieces that the bride and groom use to design and decorate the wedding and reception venues. Deciding on and buying wedding decoration ideas is infinitely easier when you have a theme and colors for your wedding. Once you have developed your wedding theme and chosen your colors, follow these simple rules for buying wedding decorations that complement your personal style.
Buying Wedding Decorations:

Make a list of areas to be decorated. You'll probably walk through the wedding ceremony venue and reception site several times during your wedding planning sessions, so take the opportunity to visualize these areas with all your wedding reception decorations. The main areas to decorate are the aisle and altar, cake table, gift area, guest book table, buffet table and the guest tables and chairs. Remember to include inexpensive wedding decorations for the surrounding areas, such as staircases, entrances, lobbies and even bathroom vanities.

Start shopping for decorations as soon as you have decided on a theme. The sooner, the better; waiting can be dangerous because stores may run out of inventory or you won't have time to make sure you have everything and to set it all up. This is especially problematic for wedding centerpieces and other bulk decor. Also take the time to carefully coordinate the colors and styles of your wedding decoration ideas. These two decorating inspirations often influence each other. You may have to make quick decisions if you find a great sale on certain decorations, but try to resist impulse purchases.

Shop in craft departments for fabric decorations. Tulle, chiffon or other sheer materials are fantastic and easy wedding decor options. Drape sheer fabrics over staircase railings and room dividers to add color and texture to the room. You can also use sheer fabrics as table skirts or tablecloth toppers for easy wedding table decorations, or you can tie them in giant bows around chairs.

Search for unique, nontraditional decorating elements. There's more to wedding decorations than white lace and paper doves. Find one-of-a-kind centerpieces among gardening items, for example. Antiqued watering cans filled with flowers or bubbling garden fountains work well for summer weddings. During the holidays, look for old-fashioned sleds, holiday ornaments and ice skates to dress up a winter wedding. Nontraditional wedding centerpieces and other decorating elements are often very inexpensive wedding decorations.

Browse housewares for inexpensive glassware. Glass vases, bowls and classic wine glasses dress up any table. Choose these low-cost wedding decorations when many are needed for table centerpieces, place-setting decor and other wedding reception decorations. Select tall, slender vases for small floral arrangements or low, wide-mouth bowls for floating candles.

Buy in bulk. When you find an item you like, check to see if a quantity discount is available. The price per item may be lower if you purchase an entire case or a large number of wedding table decorations such as silk flowers, vases and photo frames. Bulk also assures that you'll have enough of a decoration to use it everywhere you planned and in any extra places you notice later.

Buy Wedding Planning
Back to Guides Directory