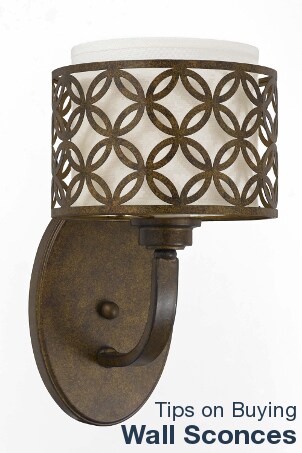 Lighting is one of the best ways to update a room, and layering different levels of light will give your home a finished look. When you're creating the lighting design for your living room, bedroom, or hallway, make sure to include wall sconces. These tips will help you find the perfect ones.
Buying Wall Sconces:

Think about pairs. One of the most popular ways to use wall sconces is in pairs, flanking something large, like a piece of art over a sofa or a mirror over a fireplace. A matched set of light fixtures will add symmetry and a sense of formality to a space, which can ground a room. You can use other decorative accents to continue the formality or to take the room in a more casual direction.

Consider your existing decor. Wall sconces can add a distinctive accent to many rooms in your home, but they'll look out of place if they don't complement the room's style. To make sure they look appropriate for the space, look for fixtures with colors and finishes that are already in the room.

Decide how much light you need. While sconce lights are designed for use as accent lighting, some fixtures provide more light than others. For subtle lighting, mount candle wall sconces in your bedroom or along a hallway; glass sconces with large torchiere-style shades, however, will provide bright light in your living room or family room. You may want to buy sconces that include two or more lights if you need more illumination in a large area.

Buy sconces for small spaces. While wall sconce lighting looks great in any room, it can really open up a small space, such as a bathroom. Try a decorative wall sconce that includes three shades to illuminate your bathroom mirror or find a light sconce you can mount above a bed in your child's room to save some space. A sconce is also easy to remove, which makes it a perfect solution if you frequently switch things up and redecorate.

Keep safety in mind. Once you've decided on the light-sconce styles that complement your home, you'll want to consider the members of your household and the traffic each room receives before hanging any fixtures. Mount a heavy sconce, especially an iron wall sconce, out of the reach of children and make sure it is hung properly, so it won't come loose. Glass sconces should also be hung at adult eye level; keep all candle wall sconces away from curtains, desk areas, or bedding.
What Do You Want to Do Next?

Shop Sconces
Shop Vanity Lights
Shop All Lighting & Ceiling Fans
See All Guides
Read More Home Guides
Learn More about Lighting