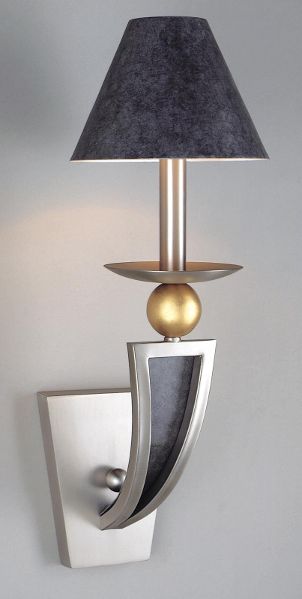 Save space and light your rooms in a unique way when you buy wall lamps for your home. Whether you'd like swing-arm wall lamps to mount above your bed for reading or plug-in wall lamps for extra light in the hallway, the following suggestions will help you find wall lighting options, such as sconces, that fit your style and your space. Read on for tips on buying wall lamps.
Shopping for Wall Lamps:

Buy wall lamps that fit specific functions. Before you buy any sconces and wall lamps for your home, you'll want to keep their functions in mind. If you plan to hang wall-mounted lamps in your dining room for peaceful mood lighting, you'll want to look at styles with frosted glass and muted tones. Make sure your wall reading lamps provide plenty of light and have an adjustable neck and shade, especially if you plan to mount them in your living room. Don't forget to buy swing-arm wall lamps for your home office or even a small book nook tucked in a corner of a room so you can direct light where you need it.

Look for wall lamps that complement your home's style. While you can often buy wall lights that are neutral enough to work with any decor, you can make your home look distinctive by choosing unique sconces and wall lamps that show off your personal taste. Accent a traditional living room with structured plug-in wall lamps that feature classic bell-shaped shades, or make a contemporary room stand out with a bold, geometric wall sconce.

Find durable wall lamps that mount easily. Because wall lights are mounted and don't have a base or stand to steady them, buy sturdy styles that won't become loose or fall. Look for wall-mounted lamps made of thick iron or bronze for quality; chrome and stainless-steel wall lighting fixtures are also sturdy and will not discolor easily. If you'll be mounting particularly heavy wall sconces in your home, you may want to ask a friend for help so that you don't accidentally hang the fixture crooked. Be sure to mount wall reading lamps at a lower height if your family will be sitting on the sofa or bed to read.

Buy Sconces and Vanities
Back to Guides Directory