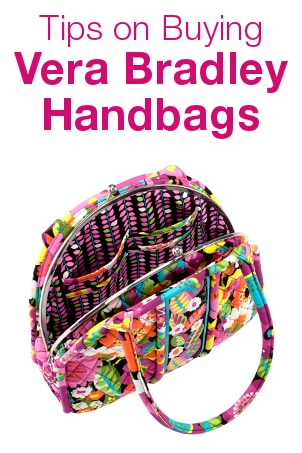 SHOP VERA BRADLEY HANDBAGS NOW >>
If you're shopping for a fun, feminine handbag, then you'll want to take a look at Vera Bradley handbags. Since 1982, Vera Bradley has been known for their brightly patterned, quilted cotton bags and accessories. They're preppy and playful, and they pair perfectly with all sorts of outfits. When you're buying a Vera Bradley handbag, you'll want to keep these tips in mind.
Buying Vera Bradley Handbags:

Choose a Vera Bradley print the way you would choose a silk scarf. If you're paralyzed by prints, then just take a step back and think about your favorite color schemes in your other accessories, like your scarves. One bag doesn't have to go with every outfit, so choose a print that makes your eyes happy, and be sure it's in a similar color family of your favorite pieces of clothing. No matter which print you choose, you can be sure that your bag will also dress up your more neutral ensembles, like a little black dress or a white blouse and jeans.

A Vera Bradley tote bag carries essentials in style. A functional tote bag is more fun to carry when it's printed with flowers or paisleys. A quilted cotton tote bag is perfect for carrying flip flops, towels, sunscreen, and other gear to the beach. You can also use it for holding a laptop and folders for the office. You can use a colorful Vera Bradley tote bag as a library bag or even as an eco-friendly shopping bag when you head to the grocery store. A large, quilted handbag would also work well for carrying craft supplies.

A Vera Bradley clutch is perfect for weekends. Designed to hold just a few things, a clutch is stylish enough for a dinner date or brunch with friends, and it has just enough room for things you need when you go out. Look for a wallet in signature Vera Bradley floral pattern, or find a wristlet in paisley for a fresh look.

A versatile bag that is practical and pretty is a great investment. A Vera Bradley shoulder bag can easily slip over your arm when you're in a hurry; look for one with an adjustable strap, so you can make it work for a variety of occasions. A crossbody bag is another popular, hands-free way to carry important items around town. For a relaxed style, choose a quilted hobo handbag.

Who said backpacks have to be serious? You don't have to buy a boring backpack just to make sure you have a place for all your essentials. Vera Bradley backpacks are showing up all over campuses because they have compartments for laptops, water bottles, pens, phones, and all the other things a student needs throughout the day. And the dose of color will make carrying textbooks a bit more fun.

Shop Vera Bradley Evening Bags
Shop Vera Bradley Tote Bags
Shop All Vera Bradley Bags
See All Guides
Read More Clothing & Shoe Guides
Learn More about Handbags