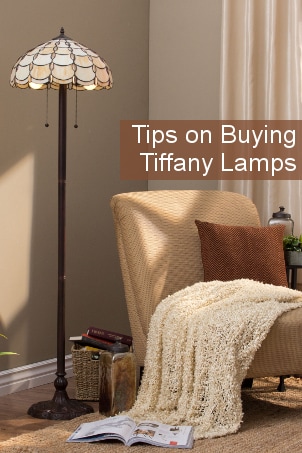 Easily recognizable with their colored glass shades and heavy iron stands, Tiffany lamps were first created in 1895 as part of the Art Nouveau movement. They bring the beauty of a stained glass window into your home, whether you choose small table lamps or hanging pendant fixtures. For the look of an authentic Tiffany lamp without the high price tag, shop for Tiffany-style light fixtures. Here are a few suggestions for finding the perfect one for your home.
Buying Tiffany-Style Lighting:

Botanical designs: Tiffany-style lamps can be as elaborate or as simple as you want. If the rest of your room is plain, use a new lamp to add color and intricate design. The most popular Tiffany-inspired lamps feature botanical themes, like vintage flowers or dragonflies with vibrant red and purple hues. The botanical styles are perfect for rooms that are decorated in Victorian, shabby chic, or bohemian styles.

Geometric designs: If you want something more streamlined, choose Mission-style lamps, which have a look inspired by Frank Lloyd Wright. The Mission style tends to use white or light colored glass for a more subtle effect; the geometric pieces of glass form a look that is perfect for contemporary, transitional, southwest, or arts and crafts style rooms.

Table lamps: Tiffany-style table lamps work well if you are looking for something to accessorize an end table, desk, or nightstand. They'll add a pop of color as well as task lighting. Most Tiffany lamps feature one of two basic shade styles. Table lamps typically use rounded overhanging shades to direct light downward; these make the perfect bedside companion for reading. If you're using a Tiffany-style lamp to light an entire room, you're better off using top-mounted shades that direct the light upward. Smaller accent lamps -- which are often in the shapes of flowers or critters -- can sit on a desk, sideboard, or bookshelf to provide a bit of style and just a touch of illumination.

Floor lamps: These lamps are perfect if you have more floor space than table space. Floor lamps come in two styles: torchiere and overhanging. Torchiere refers to lamps with a slender base that attaches to an upward-facing shade; place one in a room that needs ambient lighting. Overhanging lamps have a suspended shade mounted on a curved base with an intricate design; set one next to an armchair to create a reading spot.

Mounted lighting: A wall-mounted or ceiling-mounted lamp requires some extra electrical work but is ideal if you need to fill a room with light. Wall-mounted lights can be used to illuminate a dark hall or frame a bathroom mirror. Pendant lamps in this classic style can be hung over a dining room table, or you could hang a few smaller pendants over a kitchen island.
What Do You Want to Do Next?

Shop Tiffany-Style Lamps
Shop Tiffany-Style Pendants
Shop All Tiffany-Style Lighting
See All Guides
Read More Home Guides
Learn More about Lighting