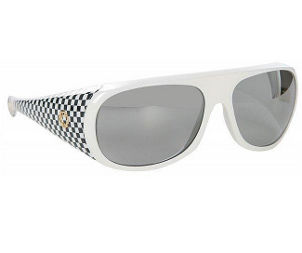 A pair of good ssports sunglasses should offer protection and comfort, and Spy sunglasses do just that. For skiing, snowboarding, surfing, skateboarding or driving, Spy sunglasses offer the versatility and sun protection you need -- and Spy Optic sunglasses provide plenty of style for simply walking on the beach, too. Designed in 1994 by athletes who wanted superior designer sunglasses, Spy sunglasses are perfect for sports enthusiasts and those who just want stylish sunglasses for everyday activities. Read on to learn more about buying Spy Optic sunglasses.
Spy Sunglasses Buying Tips:

Classic and timeless: Spy MC sunglasses, with their boxy lenses and sleek wraparound frames, are stylish as both men's sunglasses and women's sunglasses. Look for Spy MC sunglasses with tortoiseshell frames for a stylish look or find sleek black frames that go with every outfit. Designer sunglasses with oversized frames, such as the Spy Dynasty, will give you a vintage look reminiscent of the 1960s, and aviator sunglasses with gradient lenses in silver or black are always iconic.

Polarized protection: To protect your eyes and reduce the sun's glare while you're driving or playing sports, look for sunglasses with polarized lenses. Whether you're looking for sports or fashion sunglasses from Spy, you can find stylish frames with polarized lenses in brown, bronze, blue, violet or grey. Spy polarized sunglasses come in many different styles, so you're sure to find a pair that flatters your face.

Trendy statements: If you're looking for sunglasses that make a fashion statement, look for women's Spy Optic sunglasses with colorful frames and fun details -- such as polka dots, metal hardware, stripes, checkers or other patterns. Gradient lenses add a sleek, stylish look that can really enhance even the simplest frames. Men's sunglasses with textured frames in black, brown, dark green or tortoiseshell are both flattering and fashionable. Spy Optic sunglasses with a wrap frame not only look good; they also offer maximum protection from the sun.

Frames for your face: When you're shopping for Spy Optics sunglasses, look for frames that will flatter your face shape. If you have a more angular or square-shaped face, oversized sunglasses or glasses with a rounded shape will soften the angles of your face. Similarly, if you have a round face, look for sunglasses with more squared frames. Wrap sunglasses will reduce the width of a wide face, and oversized frames can give a longer or oval face balance.

Buy Spy Sunglasses
Back to Guides Directory